Image
USDA Update – November 14, 2022
IMPORTANT DATES TO REMEMBER
SERVICE CENTER CLOSED:  Thanksgiving Holiday, Thursday, November 24, 2022
NAP APPLICATION DEADLINE - Grass and Alfalfa - December 1, 2022
2022 LIVESTOCK FORAGE PROGRAM – Applications are being accepted.  Deadline to submit signed application, January 30, 2023. 
2023 ARCPLC Election and Enrollment -  Deadline March 15, 2023
Disclaimer:  Information in this UPDATE is pertinent to Kiowa County FSA only.  Producers reading this and that do not have FSA interest in Kiowa County are advised to contact their local FSA Office. 
THE USDA SERVICE CENTER HAS A DROP BOX AVAILABLE ON THE EAST SIDE OF THE BUILDING. 
U.S. DROUGHT MONITOR
Unfortunately, the drought intensity for much of Colorado changed this past week, with many eastern Colorado counties increasing to a D2 intensity.  
With this designation, these counties are now eligible for CRP Emergency haying and grazing.  Producers interested in haying and grazing CRP acres under emergency provisions must contact their local FSA office to begin the paperwork for the activity to be considered authorized.  NRCS will need to conduct a field visit to determine if the land can support the activity.  The activity cannot begin until producers receive notification from FSA that the request has been approved. 
Any unauthorized activity could result in termination of CRP contract.
Image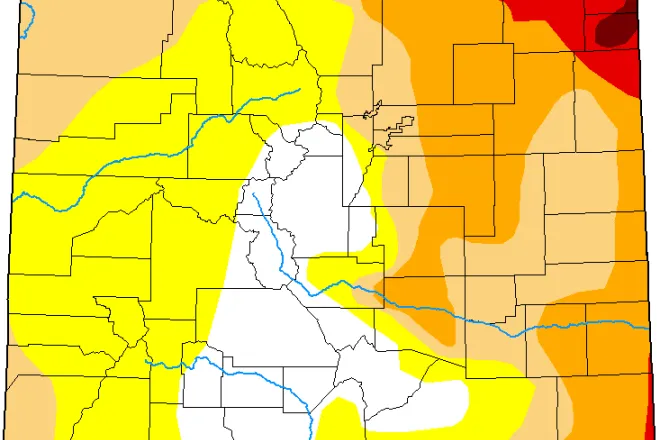 NAP APPLICATION FOR COVERAGE
Interested producers have until Thursday, December 1, 2022, to request an application for coverage for grass for grazing and alfalfa. 
For all coverage levels, the NAP service fee is the lesser of $325 per crop or $825 per producer per county, not to exceed a total of $1,950 for a producer with farming interests in multiple counties
NAP Enhancements for Qualified Producers
Qualified veteran farmers or ranchers are eligible for a service fee waiver and premium reduction if the NAP applicant meets certain eligibility criteria. Beginning, limited resource and targeted underserved farmers or ranchers remain eligible for a waiver of NAP service fees and premium reduction when they file form CCC-860, "Socially Disadvantaged, Limited Resource and Beginning Farmer or Rancher Certification."
For NAP application, eligibility, and related program information, contact your local County USDA Service Center or visit fsa.usda.gov/nap.
Update Your Records
FSA is cleaning up our producer record database and needs your help. Please report any changes of address, zip code, phone number, email address or an incorrect name or business name on file to our office. You should also report changes in your farm operation, like the addition of a farm by lease or purchase. You should also report any changes to your operation in which you reorganize to form a Trust, LLC, or other legal entity. 
FSA and NRCS program participants are required to promptly report changes in their farming operation to the County Committee in writing and to update their Farm Operating Plan on form CCC-902.
Making Farm Reconstitutions
When changes in farm ownership or operation take place, a farm reconstitution is necessary. The reconstitution — or recon — is the process of combining or dividing farms or tracts of land based on the farming operation. 
To be effective for the current Fiscal Year (FY), farm combinations and farm divisions must be requested by August 1 of the FY for farms subject to the Agriculture Risk Coverage (ARC) and Price Loss Coverage (PLC) program. A reconstitution is considered to be requested when all of the required signatures are on FSA-155 and all other applicable documentation, such as proof of ownership, is submitted.
Total Conservation Reserve Program (CRP) and non-ARC/PLC farms may be reconstituted at any time. 
The following are the different methods used when doing a farm recon: 
Estate Method — the division of bases, allotments and quotas for a parent farm among heirs in settling an estate
Designation of Landowner Method — may be used when (1) part of a farm is sold or ownership is transferred; (2) an entire farm is sold to two or more persons; (3) farm ownership is transferred to two or more persons; (4) part of a tract is sold or ownership is transferred; (5) a tract is sold to two or more persons; or (6) tract ownership is transferred to two or more persons. In order to use this method, the land sold must have been owned for at least three years, or a waiver granted, and the buyer and seller must sign a Memorandum of Understanding
DCP Cropland Method — the division of bases in the same proportion that the DCP cropland for each resulting tract relates to the DCP cropland on the parent tract
Default Method — the division of bases for a parent farm with each tract maintaining the bases attributed to the tract level when the reconstitution is initiated in the system.
 For questions on your farm reconstitution, contact your local FSA Office.