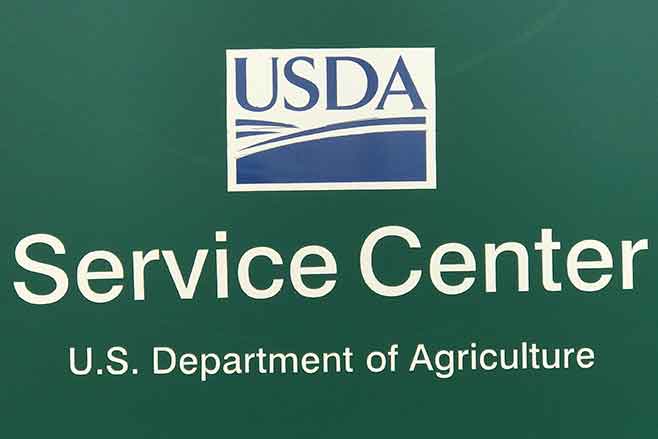 Published
Friday, November 10, 2017
IMPORTANT DATES TO REMEMBER:
CRP Contract Management - Contact FSA or NRCS with questions. Producers have been notified of required completion dates.
County Committee Meeting - TBA
October 1st - November 30th - Fiscal Year 2018 First CRP grazing period - Contract Management. FSA and NRCS approval required
November 12th - Last date to remove hay bales from CRP (FSA prior approval required)
December 1, 2017 - 2018 Non-insurable Crop Assistance Program (NAP) application closing date for Alfalfa, Grass, Mixed Forage
NOW!! - File form CCC-633 EZ page 1 with FSA before losing beneficial interest to maintain Loan Deficiency Payment (LDP) eligibility. (To request payments, producers need to submit page 2 of the CCC-633EZ)
FARM LOAN Personnel in Kiowa County Service Center - December 12th
CRP Continuous Signup - CRP Grassland acres are available. Producers interested are urged to contact FSA Office.
Disclaimer: Information in this UPDATE is pertinent to Kiowa County FSA only. Producers reading this and that do not have FSA interest in Kiowa County are advised to contact their local FSA Office.
---
FARM STORAGE FACILITY LOANS
With fall harvest winding down for the year and some producers scrambling for grain storage, FSA can assist producers with a Farm Storage Facility loan. The first step is determining a 'need for storage', FSA completes this step based on previous three years average of producer's share of acres. FSA then subtracts any existing storage that is owned by the applicant. There will need to be an Environmental Assessment determination made on the site. Producer's interested can get a bid from a contractor for the bin site, but no construction can begin until the loan is approved.
Producer's will need to complete a CCC-185, 'FSFL application' and submit a non-refundable $100 application fee. Producer's will also need to submit financial information to determine ability to repay the loan to a Farm Loan Manager.
The following are the terms for farm storage facility loans:
A 15 percent cash down payment is required; thus, CCC's loan is limited to 85 percent of the net cost of the eligible storage facility and permanent drying and handling equipment (subject to the applicant's storage needs test). The down payment cannot include any trade-in, discount, rebate, deferred payment or post-dated check.
Loan terms available are seven (7) years, ten (10) years or twelve (12) years depending on the amount of the loan.
Interest rate is fixed for the loan term based on the rate in effect during the month the loan is initially approved. The interest rate is equivalent to the rate of interest charged on Treasury Securities of comparable term and maturity.
Loans are to be repaid in equal amortized installments.
Loan will not be disbursed until the facility has been erected and inspected with the exception of one (1) qualifying partial disbursement.
Producers interested can obtain a Fact Sheet on the following website
https://www.fsa.usda.gov/Internet/FSA_File/frm_storage_facility
As always, producers with questions can call the FSA office for more information.
Kiowa County FSA Committee
Destiny Haase - LAA 2 - Central area - Committee Chairperson
Sean Harkness - LAA 1 - East area - Committee Vice-Chairperson
Michael Zimmerman - LAA3 - West area - Committee Regular Member
USDA SERVICE CENTER CONTACT INFORMATION
Telephone 719-438-5851 FSA (Ext 2), NRCS (Ext 3). FSA Fax number: fax2mail 844-332-7501
E-mail individuals firstname.lastname@co.usda.gov (Example firstname.lastname@co.usda.gov, dawna.weirich, charla.ferris, hallie.barlow, marvin.watson, marlin.miller
KIOWA COUNTY FARM LOAN CONTACT INFO - CALL FOR AN APPOINTMENT
Telephone 719-336-3437 (ext2) Mary Rhoades, mary.rhoades@co.usda.gov
SERVICE CENTER OFFICE HOURS:
Monday through Friday - 8:00 a.m. to 4:30 p.m. Friday, by appointment only.
FSA INFORMATION
For information on programs visit our website located at www.fsa.usda.gov or like us on Facebook, or follow us on Twitter.