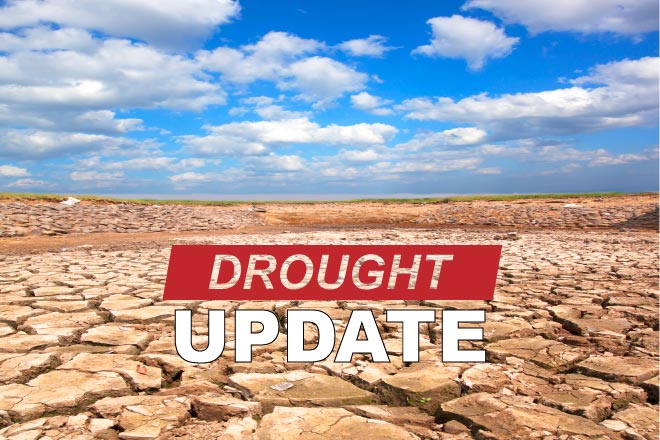 Published
Sunday, June 6, 2021
Colorado's western slope remains trapped in extreme and exceptional drought while the eastern plains and portions of the San Luis Valley and northern front range have moved to drought-free conditions. More than half of the state is now listed as drought-free.
This week, parts of east central and southeast Colorado which were abnormally dry last week shifted to become free from drought. Some areas received as much as 150 percent of their normal rainfall for the week according to the National Drought Mitigation Center.
A strip of moderate drought in southern Las Animas County is now abnormally dry.
Improvements in the eastern half of the state began in mid-March as significant snow provided initial relief. During May, thunderstorms continued to bring rain to Colorado's eastern plains, resulting in drought-free conditions for most northeast counties by the end of the month.
The first drought-free area in Colorado since mid-2020 appeared in late April.
The USDA noted that crop conditions continued to improve following recent moisture. Western counties have received little recent rain, and have experienced windy conditions. Red flag warnings from the National Weather Service have regularly been issued for high fire danger. Area reservoirs are at extremely low levels, limiting options for crop irrigation.
Overall, 51 percent of the state is drought-free, up from 34 percent last week, with an additional six percent in abnormally dry conditions, down from 20 percent in the previous week. Moderate drought covers eight percent of Colorado, down from 11 percent, while severe drought remains unchanged at six percent. Extreme and exceptional drought were also unchanged at 13 and 16 percent, respectively.
Just under 600,000 people in Colorado are in drought-impacted areas, down from 4.6 million in April.
One year ago, 23 percent of the state was drought-free, with an additional 13 percent experiencing abnormally dry conditions. Moderate drought was impacting another 16 percent of the state, with 28 percent in severe drought and 19 percent in extreme conditions. Exceptional drought had not yet appeared in Colorado. Numbers do not total 100 due to rounding
Early in the summer of 2019, the state was in an eight-week span of drought-free conditions - the first time Colorado had been clear from all levels of drought and abnormally dry conditions since records became available starting in 2000. In late May of that year, the state's snow water equivalent stood at 437 percent of normal following a series of storms that brought abundant moisture across Colorado's river basins.
As much as 77 percent of the state has fallen into the extreme and exceptional categories within the past year.
Colorado Drought by the Numbers

Week

Date

None

D0

D1

D2

D3

D4

Current

6/1/21

51

6

8

6

13

16

Last Week

5/25/21

34

20

11

6

13

16

3 Months Ago

3/2/21

0

1

10

32

41

16

Start of Calendar Year

12/29/20

0

0

6

18

49

28

Start of Water Year

9/29/20

0

1

10

36

50

3

One Year Ago

6/2/20

23

13

16

28

19

0