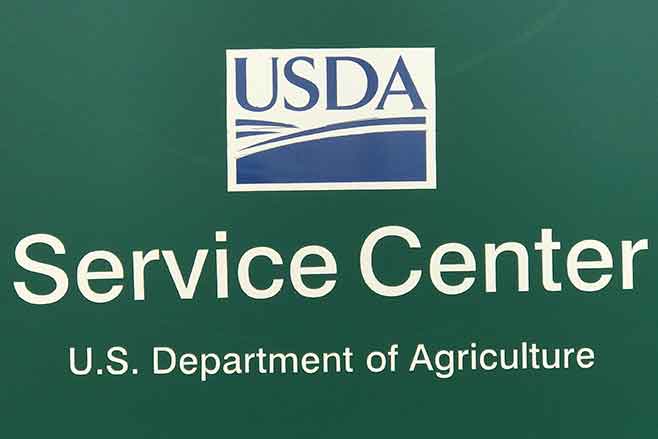 Published
Friday, January 5, 2018
IMPORTANT DATES TO REMEMBER:
USDA SERVICE CENTER CLOSED - Monday, January 15th - Martin Luther King Birthday
CRP Contract Management - Contact FSA or NRCS with questions. Producers have been notified of required completion dates.
County Committee Meeting - January 16th, 2018
NOW!! - File form CCC-633 EZ page 1 with FSA before losing beneficial interest to maintain Loan Deficiency Payment (LDP) eligibility. (To request payments, producers need to submit page 2 of the CCC-633EZ)
FARM LOAN Personnel in Kiowa County Service Center - Tuesday, January 9th
CRP Continuous Signup - CRP Grassland OFFERS ONLY. Producers interested are urged to contact FSA Office.
Disclaimer: Information in this UPDATE is pertinent to Kiowa County FSA only. Producers reading this and that do not have FSA interest in Kiowa County are advised to contact their local FSA Office.
---
HAPPY NEW YEAR
Another year has come and gone and each year seems to go faster than the last. We wish all our producers a happy, healthy New Year.
USDA SERVICE CENTER CLOSED
The USDA Service Center will be closed on Monday, January 15, in observance of Martin Luther King's birthday. The Service Center will reopen on Tuesday, January 16.
Payment Limitations by Program
The 2014 Farm Bill established a maximum dollar amount for each program that can be received annually, directly or indirectly, by each person or legal entity. Payment limitations vary by program for 2014 through 2018.
Below is an overview of payment limitations by program.
Commodity and Price Support Programs
The annual limitation for the Agriculture Risk Coverage (ARC) and Price Loss Coverage (PLC) programs, Loan Deficiency Payments (LDPs) and Market Loan Gains is $125,000 total.
Conservation Programs
The Conservation Reserve Program (CRP) annual rental payment and incentive payment is limited to $50,000. CRP contracts approved before Oct. 1, 2008, may exceed the limitation, subject to payment limitation rules in effect on the date of contract approval.
The Emergency Conservation Program (ECP) has an annual limit of $200,000 per disaster event. The Emergency Forest Restoration Program (EFRP) has an annual limit of $500,000 per disaster event.
Disaster Assistance Programs
The annual limitation of $125,000 applies to the Emergency Assistance for Livestock, Honeybees and Farm-Raised Fish Program (ELAP), Livestock Forage Disaster Program (LFP) and Livestock Indemnity Program (LIP). The total payments received under ELAP, LFP and LIP may not exceed $125,000. A separate limitation of $125,000 applies to Tree Assistance Program (TAP) payments. There is also a separate $125,000 payment limit for the Noninsured Crop Disaster Assistance Program (NAP).
Payment limitations also apply to Natural Resources Conservation Service (NRCS) programs. Contact your local NRCS office more information.
For more information on FSA payment limitations by program, visit https://www.fsa.usda.gov/Assets/USDA-FSA-Public/usdafiles/FactSheets/2015/payment_eligibility_payment_limitations.pdf.
Farm Storage Facility Loans
FSA's Farm Storage Facility Loan (FSFL) program provides low-interest financing to producers to build or upgrade storage facilities and to purchase portable (new or used) structures, equipment and storage and handling trucks.
The low-interest funds can be used to build or upgrade permanent facilities to store commodities. Eligible commodities include corn, grain sorghum, soybeans, oats, wheat, barley, minor oilseeds harvested as whole grain, pulse crops (lentils, chickpeas and dry peas), hay, and vegetables for cold storage facilities. Qualified facilities include grain bins, hay barns and cold storage facilities for eligible commodities.
Loans up to $50,000 can be secured by a promissory note/security agreement and loans between $50,000 and $100,000 may require additional security. Loans exceeding $100,000 require additional security.
Producers do not need to demonstrate the lack of commercial credit availability to apply. The loans are designed to assist a diverse range of farming operations, including small and mid-sized businesses, new farmers, operations supplying local food and farmers markets, non-traditional farm products, and underserved producers.
To learn more about the FSA Farm Storage Facility Loan, visit www.fsa.usda.gov/pricesupport or contact your local FSA county office. To find your local FSA county office, visit http://offices.usda.gov.
Kiowa County FSA Committee
Destiny Haase - LAA 2 - Central area - Committee Chairperson
Sean Harkness - LAA 1 - East area - Committee Vice-Chairperson
Michael Zimmerman - LAA3 - West area - Committee Regular Member
USDA SERVICE CENTER CONTACT INFORMATION
Telephone 719-438-5851 FSA (Ext 2), NRCS (Ext 3). FSA Fax number: fax2mail 844-332-7501
E-mail individuals firstname.lastname@co.usda.gov (Example firstname.lastname@co.usda.gov, dawna.weirich, charla.ferris, hallie.barlow, marvin.watson, marlin.miller
KIOWA COUNTY FARM LOAN CONTACT INFO - CALL FOR AN APPOINTMENT
Telephone 719-336-3437 (ext2) Mary Rhoades, mary.rhoades@co.usda.gov
SERVICE CENTER OFFICE HOURS:
Monday through Friday - 8:00 a.m. to 4:30 p.m. Friday, by appointment only.
FSA INFORMATION
For information on programs visit our website located at www.fsa.usda.gov or like us on Facebook, or follow us on Twitter.