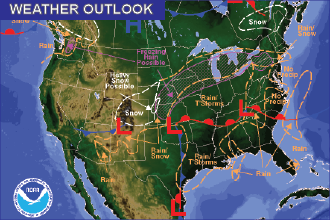 Published
Monday, January 16, 2017
By Chris Sorensen
After more than a day of ice and snow, the National Weather Service converted a winter storm warning in Kiowa County to a winter weather advisory, which was then cancelled Monday morning.
A layer of ice accumulated Saturday night into Sunday as freezing rain fell in the area. Rain continued periodically until later in the afternoon before temperatures dropped and a layer of snow was added on top of the ice.
The winter storm warning was converted to an advisory shortly after 9:00 p.m. Sunday night, which was subsequently cancelled just before 7:00 a.m. Monday morning.
Classes were initially placed on a two hour delayed start in Eads, then cancelled for the day shortly before 8:00 a.m.
The Colorado Department of transportation reported icy conditions on all major highways across eastern Colorado Monday morning. CDOT snowplows continue to plow and patrol throughout the region, however travel may be hazardous throughout the day.
One to two inches of additional snow is possible as the day progresses, largely ending by 9:00 p.m.
Wind has also returned to the forecast. North wind in the 15 to 20 mile-per-hour range continues through Monday, with gusts to 30 mph possible.
A warm up begins Tuesday as the high reaches to 40. Wednesday and Thursday will see sunny skies and highs around 50.
Temperatures drop back to the mid-40s Friday as a slight chance of snow and rain return to the forecast. Highs in the low 40s are expected to continue through the weekend as a series of upper level disturbances pass across the region.