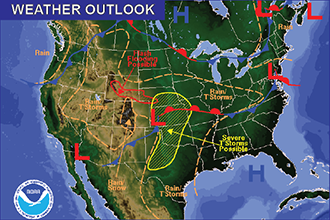 Published
Sunday, May 8, 2016
By Chris Sorensen
May 8, 2016
Warmer weather and periodic chances of thunderstorms continue this week.
High temperatures will be in the mid-70s throughout most of the forecast period. Wednesday will be slightly cooler, with a high in the upper 60s, while Friday's high will reach 80. Overnight lows will be in the 40s this week.
Chances of showers and thunderstorms start Sunday afternoon and continue through Monday, and return Tuesday afternoon into the night. The possibility of rain is 30 percent or less, with under a tenth of an inch expected - higher amounts are a potential with areas impacted by thunderstorms.
Storms that develop Sunday could be strong to severe for Kiowa, Prowers and Bent Counties. Eastern Kiowa and northern Prowers should be prepared for wind gusts to 60 miles per hour and one inch or larger hail.
As spring storms ramp up, its important to remember safety precautions for storms, flooding and tornadoes. Several articles recently published in the Kiowa County Press provide helpful tips and guidance.
Weather Service: When Thunder Roars, Go Indoors