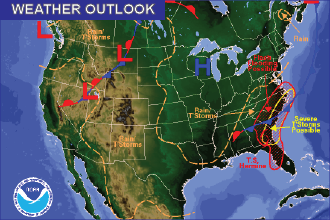 Published
Friday, September 2, 2016
By Chris Sorensen
Thunderstorms remain in the outlook - particularly for Friday - into the early part of the week as temperatures rise.
Scattered showers and thunderstorms are expected after 4:00 p.m. Friday, continuing into the early evening as a strong upper-level disturbance passes through the area. Winds could gust as high as 50 miles per hour, and small hail is possible. There is potential for one-tenth to one-quarter inch of rain, though amounts could be higher where storms do occur.
A slight potential for thunderstorms continues through the weekend before giving way to a warm, sunny day for the Labor Day holiday. Storm potential returns Monday night and continues through Tuesday.
For high temperatures, look for low 80s Friday ahead of upper 80s to low 90s through Thursday. Overnight lows will be around 60.