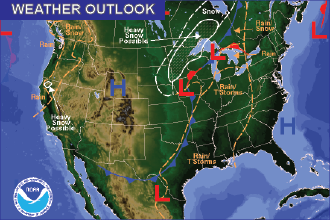 Published
Friday, November 18, 2016
Temperatures dipped significantly Thursday, and will remain at more seasonable levels through Saturday compared to the first two weeks of November.
Most of the state received measureable amounts of rain and snow Thursday, however southeast Colorado's share was sparse. Temperatures across the area fell into the 20s overnight, and are expected to struggle to reach the 40s Friday. North winds will continue in the 20 to 25 mile-per-hour range Friday, gradually falling to 10 to 15 mph in the afternoon. Overnight lows will be in the mid-teens - some of the coldest temperatures so far this season.
Slightly warmer temperatures are expected Saturday as the high reaches the low to mid-50s, falling to the low 20s overnight.
Sun and mid-60s are forecast for Sunday, marking the start of a week that will vary between the mid-50s and mid-60s through Thanksgiving. Overnight lows are expected to be below freezing for the week.
The potential for more rain and snow returns late Monday, continuing into Tuesday. A 30 percent chance of rain showers is expected between 11:00 p.m. Monday night and 1:00 a.m. Tuesday morning. After 1:00 a.m., any precipitation is expected to switch to snow, which will continue to late morning. Unlike Thursday's storms, little wind is expected.