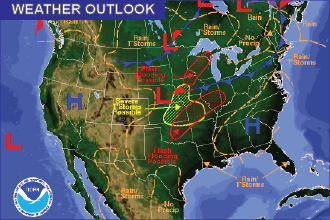 Published
Friday, September 9, 2016
By Chris Sorensen
Kiowa County Fair weekend will start off dry and cooler before a temperature spike Sunday.
Expect a high temperature in the low 80s Friday, and further cooling Saturday to the upper 70s. Look for a sunny and hot Sunday, with a high above 90.
Breezy conditions will prevail for Friday's activities, with north winds in the 15 to 20 mile per hour range, increasing to 15 to 25 mph during evening hours.
Following Sunday's warmer temperatures, the start of the week cools off again to the upper 70s Monday, and dropping to the upper 60s Tuesday.
Overnight lows have begun their seasonal decline, dropping as far as the mid-40s Friday night, then returning to the low to mid-50s to start the week.
There is a slight possibility of thunderstorms returning Monday night and Tuesday afternoon, with chances increasing slightly Tuesday evening.