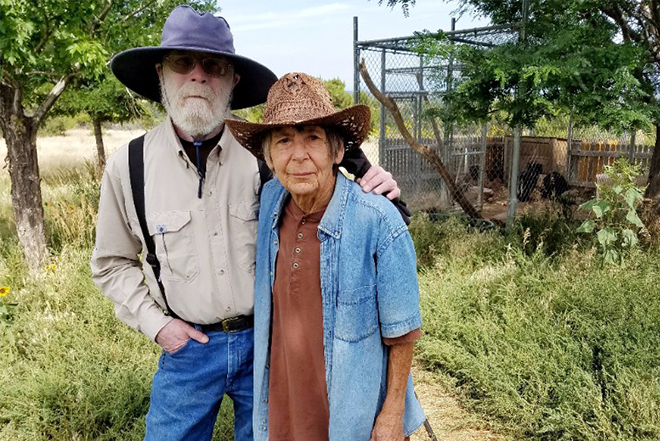 Published
Friday, September 15, 2017
Don't be fooled by the name. Wet Mountain Wildlife Rehabilitation Inc., (WMWR) is not a large nonprofit with a huge staff and deep-pocketed donors.
The folks behind WMWR are retired Pueblo schoolteachers Tom and Cecelia "Cec" Sanders, whose rural home of 31 years doubles as a refuge for wild animals. It's a 120-acre sanctuary where rescued animals can be nursed back to health and taught a healthy fear of humans before being released back into the wild.
WMWR is one of only three rehab facilities in Colorado that deal with large predatory mammals. Animals receive veterinary treatment, if necessary, and the best nutrition the Sanders can afford. The animals recover in a secluded environment, void of most human contact.
But 2017 is turning into a difficult year for the Sanders and their little nonprofit. They are facing financial pressures due to their specialty of rehabbing large mammals, particularly bears, for Colorado Parks and Wildlife.
Late freezes in the spring along the Front Range resulted in few acorns that bears need to sustain themselves. The lack of natural forage has prompted many bears to venture into cities, dumping trash cans, entering garages and homes in search of food. Those urban forays often lead to a tragic ending for adult bears as they are struck by cars or euthanized when they threaten humans. Sometimes, the conflicts leave orphaned cubs.
That's where the Sanders come in. CPW relies on them to rehab orphaned bear cubs. In recent years, they have rehabbed two or three cubs per summer at their home west of Wetmore. But this year, CPW's Southeast Region has sent 10 cubs to the Sanders to be taught a wariness of humans as they bulk up for winter. (Over 31 years, they've rehabbed 150 bears for CPW.)
It's not cheap feeding 10 bear cubs. Each consumes about 25 pounds of food per day as the Sanders push their weight up to the 130-pound range deemed safe for release into an artificial den for winter hibernation.
Adding to their burden, the couple is nursing 10 deer fawns, caring for a dozen or so large birds and stand ready to take in mountain lions, bobcat, fox or any other hungry animal CPW drops off. Since the Sanders receives no government funding, they must survive on donations from the private sector or dip into their retirement savings.
"Wildlife rehabbers are very important to our work," said CPW's Frank McGee, area wildlife manager in the Pikes Peak region. "Tom and Cec provide a valuable service to CPW and to Colorado, as a whole. Many of these bear cubs come to them with bad habits. Through time-consuming and expensive rehab work, Tom and Cec prepare them to return to the wild. I don't know what we'd do without rehab volunteers like the Sanders."
McGee said the Sanders are part of a large group of volunteers who support CPW. Many give hours to CPW transporting injured and rescued animals. Others gather and transport donated food and supplies. Many more work in CPW offices, help wildlife officers on animal counts and a variety of other ways.
NOTE: Anyone interested in contributing to WMWR can send tax-deductible donations to 743 Crestview Dr., Florence, Colo., 81226. The Sanders can be reached by email at Wtmtwild1@gmail.com.
Photo top: Tom and Cecelia "Cec" Sanders at their Wet Mountain Wildlife Rehabilitation sanctuary near Wetmore. Bottom: Tom and Cecelia "Cec" Sanders have several large enclosures where bear cubs are housed during rehab. Family units are kept intact and they are taught to fear humans. They get little human contact at the sanctuary and generally are timid in the presence of people, emerging from their dens only after Tom and Cec leave their enclosures.
Photos courtesy Colorado Parks and Wildlife/Bill Vogrin