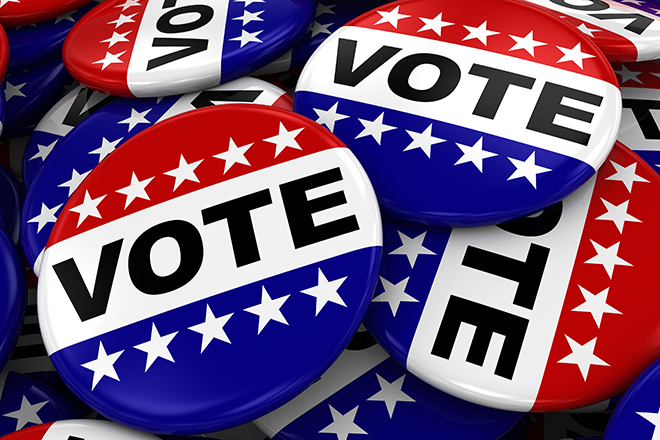 Published
Friday, May 4, 2018
ELECTION NEWS
What will be on the June 26, 2018 Primary Mail Ballot?
Representative to the 116 United States Congress- District 4
Governor
Secretary of State
State Treasurer
Attorney General
State Board of Education Member Congressional District 4
Regent of the University of Colorado - At Large
State Representative- District 64
Kiowa County Commissioner- District 2
Kiowa County Clerk and Recorder
Kiowa County Treasurer
Kiowa County Assessor
Kiowa County Sheriff
Kiowa County Surveyor
Kiowa County Coroner
Is your registration up to date? Is your address correct or did you add a PO Box, had a name change, want to change your party affiliation? If you are not sure about your registration information, contact the Kiowa County Clerk's Office at 719-438-5421 for assistance. Make your corrections today to ensure you are able to vote for all of the candidates and issues in your area. Check your voter registration information at www.govotecolorado.com .
UNAFFILIATED VOTERS
An unaffiliated voter may cast a ballot for any one political party. If an unaffiliated voter returns a ballot for more than one major political party, the ballot will be rejected and none of the votes will be counted.
You may choose which party's ballot you want to get in the mail for the next primary election by selecting a party preference at govotecolorado.com or on any paper voter registration form.
If you would rather receive a packet containing the ballots of all participating major parties, you can take no action or select this option when first registering to vote.
You can also appear in person at any Voter Service and Polling Center in your county and choose the party's ballot you want to vote. If you have moved you may be inactive. Inactive voters will not have a ballot automatically mailed to them for the June 26, 2018 Primary Election. Ballots are not forwardable to your new residence. The Post Office will send the ballot back to our office as undeliverable. The address would need to be corrected by the voter and then at that time a new ballot will be issued. A little planning upfront would help so that you receive your ballot in a timely manner.
2018 Election Dates
Colorado is an All Mail Ballot Delivery State. Voters will receive their Official Ballot in the mail for ALL Elections.
May 29, 2018, Tuesday: Last day for voters who are affiliated with a political party to change or withdraw their affiliation if they wish to vote in a different party's primary election.
June 4 - June 8, 2018: Ballots for the Primary Election will be mailed to voters this week.
Saturday, June 23, 2018: Kiowa County Clerk & Recorder's Office will be open 8:00 a.m. to 12:00 p.m. for return of mail-in ballots; issue replacement ballots; register to vote; update address; update name; cast a ballot or vote a provisional ballot.
Primary Election Day: Tuesday, June 26, 2018ballot will be mailed to all active voters.
Call the Kiowa County Clerk's Office at 719-438-5421 for voter and election questions. You can also reach the clerk's office by email at delisa.weeks@state.co.us.