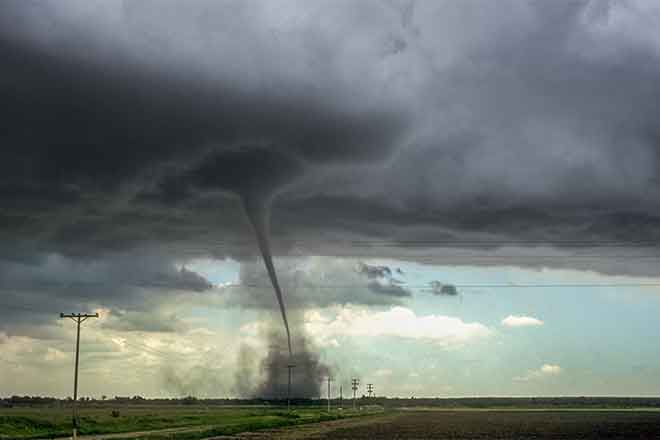 Published
Sunday, June 9, 2019
The National Weather Service says three tornadoes were spotted in Colorado Saturday afternoon during an outbreak of severe weather that prompted a thunderstorm watch across 12 northeast counties.
A landspout tornado occurred northwest of Burlington in Kit Carson County at 2:00 p.m. just as the thunderstorm watch was taking effect. The second tornado of the day was spotted nine miles east of Kirk in Yuma County at 3:12 p.m.
An additional tornado was reported southwest of Fondis, an unincorporated community in Elbert County, at 6:20 p.m. It was followed by reports of a funnel cloud in nearby northeast El Paso County 30 minutes later.
Numerous tornadoes were reported in Kansas during the afternoon, including five just across the Colorado-Kansas border near St. Francis in Cheyenne County. The first was reported southwest of the community at 3:35 p.m. About 10 minutes later, two tornadoes were noted northwest of the community, while two additional landspouts were spotted near the first tornado.
So was close!! #Tornados #dirtdevil pic.twitter.com/M5kVStU2Sh

-- VonMcArthurburg (@staterams) June 8, 2019
One-inch hail was along recorded along the Colorado-Kansas border, as well as north of the Denver metro area. In Castle Rock, just south of Denver, hail up to 2.5 inches in diameter was reported.
Sunday is expected to be a far less active, with up to a 20 percent chance of showers during the morning hours. A cold front moved across the state Saturday night, which will drop temperatures as much as 30 degrees from Saturday's highs. Temperatures are expected to reach the low to mid-60s across most of the eastern plains, with a few areas only hitting the upper 50s. Temperatures in the mid-90s were recorded in parts of southeast Colorado Saturday.
In Colorado's southern mountains, numerous flood warnings, watches and advisories continue as spring snow melt and associated runoff continues.