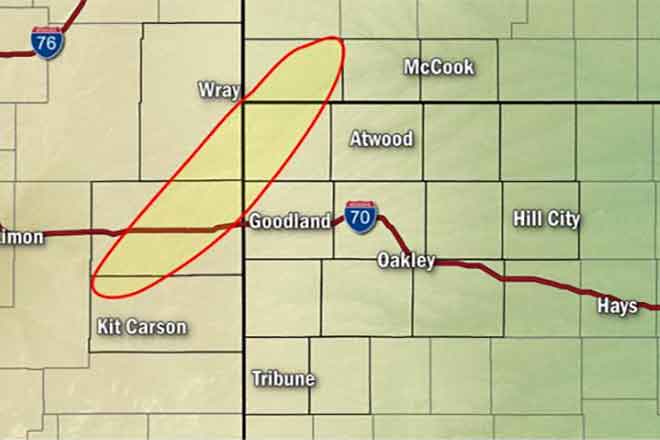 Published
Saturday, June 8, 2019
Note: the severe thunderstorm watch for all counties except Kit Carson and Cheyenne was cancelled at 8:46 p.m. The remainder of the watch was cancelled later in the evening.
Note: this article was updated as conditions changed across northeast Colorado. A recap of Saturday's severe weather and tornadoes is available here.
A severe thunderstorm watch as been expanded to include most northeast Colorado counties, including the Denver metro area. Originally, three counties in eastern Colorado were under the watch, which runs until 9:00 p.m. Saturday.
Yuma, Kit Carson and Cheyenne counties were under the original watch, which started shortly before 2:00 p.m.. Storms across the area are expected to produce hail up to two inches in diameter, wind gusts up to 80 miles per hour, and heavy rainfall that could cause flash flooding. Isolated tornadoes are also possible, with at least two tornado warnings issued in far eastern Colorado during the early afternoon.
The expanded watch now includes
ADAMS
ARAPAHOE
CHEYENNE
DENVER
DOUGLAS
ELBERT
KIT CARSON
LINCOLN
MORGAN
WASHINGTON
WELD
YUMA
At 2:00 p.m. a severe thunderstorm warning was in effect for eastern Kit Carson County. A tornado warning was also in effect for the Burlington area and Interstate 70. According to the National Weather Service office in Goodland, Kansas, a brief tornado was confirmed near Burlington by weather spotters at 2:02 p.m. The tornado warning has expired, and the severe storms were rapidly moving into Kansas.
The NWS says conditions are becoming favorable for the development of brief landspout tornadoes along a line from south of Seibert in Colorado to Benkelman, Nebraska. The tornadoes are expected to pose a limited threat, with the greatest risk coming before 4:30 p.m.
Another tornado warning was issued at 3:38 p.m. that included part of east central Yuma County. That tornado was located eight miles west of St. Francis moving northeast at 15 miles per hour. The warning expired at 4:11 p.m.
A tornado warning was issued for west central Elbert County at 6:18 p.m. The radar-indicated tornado was located five miles east of the town of Elbert, moving southeast at 30 miles per hour. The warning expired by at 6:45 p.m., only to be replaced by another radar-indicated warning in nearby northeast El Paso county that expired at 7:14 p.m. Weather spotters reported sighting a funnel cloud associated with the storm. Hail up to half-dollar size was expected for in both warned areas.
Elsewhere in the state, the NWS has issued flood warnings and advisories due to increased seasonal snowmelt and rising streams and rivers.
Thunderstorms are expected to continue into the evening hours. The watch also includes northwest Kansas counties, as well as parts of southern Nebraska.
If a tornado warning is issued for your area, take immediate steps to protect yourself and people around you.
Tornado Safety Tips
Avoid windows
Go to a basement and use a sturdy table or mattress for protection
If a basement is not available, go to a central, windowless room on the lowest level
Mobile homes / manufactured home are NOT safe, even if tied down - go to a shelter
Vehicles are not safe in a tornado - go to a shelter
If you are caught outdoors, seek shelter in a sturdy building if possible - if not available, lie flat on the ground, use your arms to cover your head, and stay far away from trees