Image
Ag stats: Colorado crop progress and condition report – week ending May 8, 2022
Windy conditions, minimal moisture, and warm temperatures were seen across most of the State last week, according to the Mountain Region Field Office of the National Agricultural Statistics Service, USDA.
According to the U.S. Drought Monitor, 91 percent of the State is under drought conditions, up 2 percentage points from last week. Forty-eight percent of the State is experiencing severe to exceptional drought conditions and extreme drought conditions are affecting 4 percent of the State, both unchanged from the previous week.
Image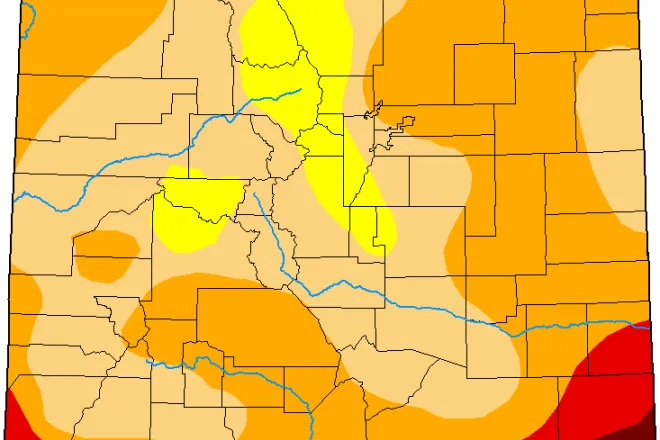 In northeastern and east central counties, precipitation improved winter wheat conditions, but in return, delayed corn planting. Counties saw a reprieve from windy conditions early in the week, but strong winds were back over the weekend, reaching close to 50 miles per hour in many areas.
In Southwestern counties, high winds continued. The area saw one moisture event, but no measurable moisture was received.
In the San Luis Valley, barley and potato planting progressed quickly due to favorable planting conditions. A reporter noted grasses are slow to green up due to lack of moisture. Lambing and calving continue to progress well and are almost complete.
The southeastern counties received minimal moisture last week. Smoke from fires in Arizona and New Mexico is affecting air quality in the southern part of the State.
Overall, calving and lambing continued with few issues and are winding down, with 96 percent of cows calved and 98 percent ewes lambed.
As of May 8, 2022, snowpack in Colorado was 72 percent measured as percent of median snowfall, down 4 percentage points from the previous week. The Southwest and San Luis Valley were 25 and 14 percent, respectively.
Stored feed supplies were rated 17 percent very short, 23 percent short, and 60 percent adequate.
Sheep death loss was 89 percent average and 11 percent light.
Cattle death loss was 1 percent heavy, 91 percent average, and 8 percent light.
CROP AND LIVESTOCK PROGRESS

Commodity

Current week

Previous week

Previous year

5-year average

 

(percent)

(percent)

(percent)

(percent)

Barley 

 
 
 
 

Planted 

85 

70 

90 

91 

Emerged 

54 

25 

66 

66 

Corn 

 
 
 
 

Planted 

23 

13 

39 

34 

Onions 

 
 
 
 

Planted 

45 

30 

55 

66 

Potatoes inside San Luis Valley 

 
 
 
 

Planted 

50 

19 

57 

52 

Potatoes outside San Luis Valley 

 
 
 
 

Planted 

40 

25 

51 

58 

Emerged 

1 

NA 

3 

7 

Sugarbeeets 

 
 
 
 

Planted 

48 

18 

53 

69 

Emerged 

6 

-- 

8 

20 

Winter wheat 

 
 
 
 

Pastured 

21 

10 

NA 

NA 

Jointed 

55 

40 

70 

66 

Cattle and calves 

 
 
 
 

Cows calved 

96 

92 

NA 

NA 

Sheep and lambs 

 
 
 
 

Ewes lambed 

98 

95 

NA 

NA 

DAYS SUITABLE FOR FIELDWORK AND SOIL MOISTURE CONDITION

 

Current week

Previous week

Previous year

5-year average

Days suitable for fieldwork 

4.1 

6.1 

5.4 

5.2 

Topsoil moisture 

(percent)

(percent)

(percent)

(percent)

Very short 

38 

48 

14 

11 

Short 

30 

40 

29 

20 

Adequate 

27 

12 

54 

66 

Surplus 

5 

-- 

3 

3 

Subsoil moisture 

 
 
 
 

Very short 

31 

37 

30 

13 

Short 

44 

45 

34 

23 

Adequate 

25 

18 

36 

63 

Surplus 

-- 

-- 

-- 

1 

CROP, LIVESTOCK, PASTURE AND RANGE CONDITION

Commodity

Current week

Previous week

Previous year

5-year average

 

(percent)

(percent)

(percent)

(percent)

Alfalfa hay 

 
 
 
 

Very poor 

5 

4 

-- 

2 

Poor 

6 

7 

5 

6 

Fair 

34 

44 

23 

21 

Good 

55 

44 

55 

59 

Excellent 

-- 

1 

17 

12 

Pasture and range 

 
 
 
 

Very poor 

21 

26 

23 

10 

Poor 

21 

26 

26 

14 

Fair 

24 

20 

43 

30 

Good 

34 

27 

8 

43 

Excellent 

-- 

1 

-- 

3 

Winter wheat 

 
 
 
 

Very poor 

24 

23 

12 

9 

Poor 

34 

34 

18 

13 

Fair 

31 

31 

42 

30 

Good 

11 

12 

25 

41 

Excellent 

-- 

-- 

3 

7 

Livestock 

 
 
 
 

Very poor 

4 

1 

3 

1 

Poor 

11 

8 

8 

5 

Fair 

26 

20 

26 

19 

Good 

52 

61 

55 

67 

Excellent 

7 

10 

8 

8