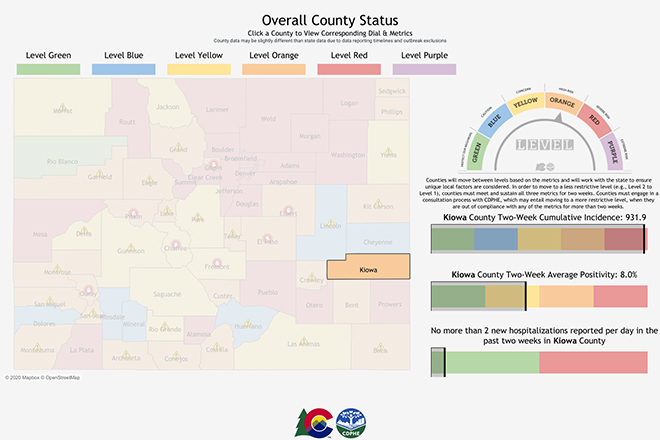 Published
Saturday, November 21, 2020
As Colorado's COVID-19 coronavirus cases and hospitalizations continue to increase, Kiowa County is among those in the state moving to higher levels of restrictions to help slow the spread of the virus.
According to the Colorado Department of Public Health and Environment, Kiowa County moves to Level Orange restrictions beginning Saturday evening at 5:00 p.m. As of Thursday, the county has recorded 23 cases, 10 of which have occurred over the past seven days. Two cases have required hospitalization. The Census Bureau estimates the county has a population of 1,405.
In Level Orange, many businesses, including restaurants, salons, and theaters, will be limited two 25 percent of capacity. Retail businesses are limited to 50 percent of capacity with curbside pick up, and are encouraged to have dedicated hours for senior citizens and people who are at risk. Indoor worship services are limited to 50 percent capacity and a maximum of 50 people.
County government offices, including the Kiowa County Clerk's office, and Kiowa County Public Library, have announced restrictions and service options. Monday, the courthouse will only be accessible by appointment only.
Eads and Plainview schools have also announced limits on in-person learning.
While many would like to plan for traditional family gatherings during the upcoming Thanksgiving holiday, Colorado officials strongly discourage social interactions with people from outside a person's household.
Dos and don'ts for Thanksgiving celebrations:
Do cook and eat a special meal with members of your immediate household.
Do video chat or talk on the phone with friends and family who don't live with you.
Do wear a mask and keep 6 feet of distance from others while grocery shopping for your Thanksgiving feast.
Don't travel to visit family and friends in other households.
Additional recommendations are available at https://covid19.colorado.gov/thanksgiving.
State modeling of COVID-19 infections estimates that 1 in 49 people are currently infectious - the highest level since the virus was first detected in the state earlier this year. Hospitalizations have also reached their highest levels in the state, with 1,564 hospitalized for confirmed COVID-19 infections as of Friday's report. An additional 159 in hospitals are also suspected to have the virus.
While cases in the state continue to rise rapidly, and the need for hospital beds is expected to exceed 2,000 - including 600 intensive care unit beds - within the next two weeks, officials say both numbers are within the state's current capacity. Beyond that time, there are uncertainties. Colorado has constructed a number of temporary alternate care sites to help support a surge in patients, however those facilities have not yet been activated.
Fifteen counties moved to Level Red Friday, while six moved to Level Orange and two moved to Level Yellow.
Over the weekend, three additional counties - including Kiowa County - move to Level Orange, and five move to Level Red.
Current Dial Levels
Level Green - Protect Our Neighbors: for counties that are able to locally contain surges. Most businesses are open with generous capacity limits.
Level Blue - Caution: for counties with low transmission levels that aren't quite ready for Protect Our Neighbors. Capacity limits are more permissive than yellow.
Level Yellow - Concern: the baseline level for counties with elevated transmission levels but stable hospitalizations.
Level Orange - High Risk: for counties where numbers are going up but not to the point where everything needs to be shut down. The capacity limits are moderate.
Level Red - Severe Risk: for counties with high levels of transmission, hospitalizations, and positivity rates. Most indoor activities are prohibited or strictly limited, and outdoor activities are encouraged as an alternative. The capacity limits are significant.
Level Purple - Extreme Risk: for counties where hospital capacity is at extreme risk of being overrun. At this level, all businesses must significantly curtail in person functions and people must stay at home except for necessary activities.