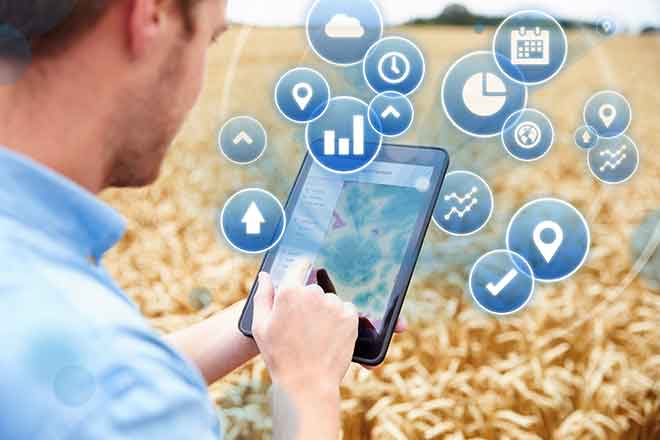 Published
Tuesday, October 1, 2019
Hot and dry weather continued last week, allowing producers plenty of days in the field for planting and harvesting activities, according to the Mountain Region Field Office of the National Agricultural Statistics Service, USDA.
Corn for grain harvest picked up as limited harvest began in more counties.
Northeastern county reporters noted winter wheat seeding was slightly delayed in areas due to high winds, but continued despite dry conditions.
East central counties remained dry with no moisture received last week. Winter wheat seeding progressed quickly where conditions allowed.
In southwestern counties, reporters noted adverse drought conditions worsened and no measurable precipitation was received last week. According to the latest U.S. Drought Monitor report, abnormally dry and moderate drought conditions expanded in several western and southern counties.
San Luis Valley reporters noted alfalfa harvest progressed quickly and producers worked to cut their hay prior to damage from nighttime frost. Potato harvest progressed well, and quality was noted as good.
In southeastern counties, minimal moisture was received last week. Crops were drying down well and harvest of both sorghum for forage and silage progressed.
Statewide, stored feed supplies were rated 2 percent short, 87 percent adequate, and 11 percent surplus.
Sheep death loss was 2 percent heavy, 86 percent average, and 12 percent light.
Cattle death loss was 76 percent average and 24 percent light.
CROP AND LIVESTOCK PROGRESS

Commodity

Current week

Previous week

Previous year

5-year average

(percent)

(percent)

(percent)

(percent)

Alfalfa hay

3rd cutting harvested

91

82

93

91

4th cutting harvested

42

30

43

35

Corn

Dented

93

77

95

96

Mature

41

23

56

51

Harvested for grain

12

4

10

7

Harvested for silage

77

50

95

86

Dry edible beans

Cut

61

45

91

76

Harvested

33

18

70

48

Onions

Harvested

60

42

93

72

Potatoes inside San Luis Valley

Harvested

55

36

50

45

Potatoes outside San Luis Valley

Harvested

67

58

71

77

Proso Millet

Harvested

73

56

NA

NA

Sorghum

Turning color

94

87

96

93

Mature

39

29

41

40

Harvested

3

--

8

5

Sugarbeets

Harvested

16

6

9

15

Sunflowers

Harvested

1

NA

--

2

Winter wheat

Planted

67

43

64

64

Emerged

39

18

36

31

DAYS SUITABLE FOR FIELDWORK AND SOIL MOISTURE CONDITION

Current week

Previous week

Previous year

5-year average

Days suitable for fieldwork

6.8

6.7

6.6

5.6

Topsoil moisture

(percent)

(percent)

(percent)

(percent)

Very short

7

6

18

9

Short

38

30

41

32

Adequate

54

63

41

56

Surplus.

1

1

--

3

Subsoil moisture

Very short

5

4

19

11

Short

26

30

33

30

Adequate

67

64

47

58

Surplus.

2

2

1

1

CROP, LIVESTOCK, PASTURE AND RANGE CONDITION

Commodity

Current week

Previous week

Previous year

5-year average

(percent)

(percent)

(percent)

(percent)

Alfalfa hay

Very poor

3

4

10

3

Poor

4

5

19

9

Fair

10

9

30

25

Good

72

71

33

51

Excellent

11

11

8

12

Corn

Very poor

--

--

2

1

Poor

3

3

11

7

Fair

18

19

19

23

Good

66

65

59

55

Excellent

13

13

9

14

Dry edible beans

Very poor

--

1

NA

NA

Poor

5

7

NA

NA

Fair

47

32

NA

NA

Good

43

50

NA

NA

Excellent

5

10

NA

NA

Onions

Very poor

--

--

NA

NA

Poor

--

--

NA

NA

Fair

7

8

NA

NA

Good

90

89

NA

NA

Excellent

3

3

NA

NA

Pasture and range

Very poor

2

4

28

8

Poor

6

7

29

17

Fair

29

25

17

25

Good

58

57

23

41

Excellent

5

7

3

9

Potatoes inside San Luis Valley

Very poor

--

--

--

1

Poor

6

3

4

6

Fair

33

33

15

18

Good

43

44

56

56

Excellent

18

20

25

19

Sorghum

Very poor

1

1

6

2

Poor

3

2

8

10

Fair

23

25

26

31

Good

61

62

55

52

Excellent

12

10

5

5

Sugarbeets

Very poor

--

--

1

1

Poor

--

1

9

4

Fair

11

12

34

18

Good

83

75

45

60

Excellent

6

12

11

17

Sunflowers

Very poor

--

--

1

1

Poor

--

--

4

6

Fair

25

22

29

28

Good

59

67

62

56

Excellent

16

11

4

9

Livestock

Very poor

--

--

2

--

Poor

2

3

4

1

Fair

6

7

25

18

Good

78

77

62

71

Excellent

14

13

7

10