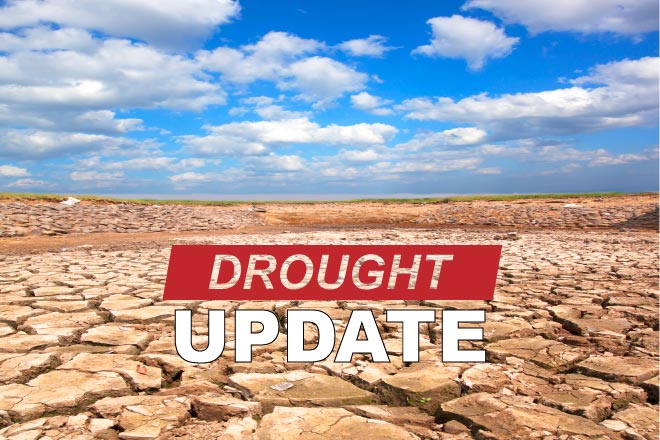 Published
Saturday, August 8, 2020
Abnormally dry conditions filled in the last remaining drought-free area of Colorado according to the latest report from the National Drought Mitigation Center.
Northeast Weld County was the site of the final part in the state not in drought conditions. That area is now abnormally dry, and nearby moderate drought expanded to cover the remainder of Morgan County and much of southern Weld.
Cooler than normal temperatures slowed drought development across the high plains, along with a few thunderstorms late in the week.
Across the remainder of the state, conditions were unchanged, ranging from abnormally dry conditions along Colorado's front range and parts of the northwest corner, to extreme drought in the southern and eastern parts of the state.
The monthly drought outlook for August from the National Weather Service Climate Prediction Center shows that drought is expected to develop in areas of Colorado that are currently abnormally dry.
Overall, 14 percent of the state is abnormally dry, down two percent from the previous week, while moderate drought increased two percent to 27. Severe and extreme drought were unchanged at 32 and 27 percent of the state, respectively.
At this time last year, 95 percent of Colorado was drought-free, with the remaining five percent listed as abnormally dry. Just over one year ago, the state was in an eight-week span of drought-free conditions - the first time the state had been clear from all levels of drought and abnormally dry conditions since records became available starting in 2000.
Drought classes include (ranked from least to most severe) D0 - abnormally dry, D1 - moderate, D2 - severe, D3 - extreme, and D4 - exceptional drought.
Colorado Drought by the Numbers

Week

Date

None

D0

D1

D2

D3

D4

Current

8/4/20

0

14

27

32

27

0

Last Week

7/28/20

1

16

25

32

27

0

3 Months Ago

5/5/20

24

14

21

29

11

0

Start of Calendar Year

12/31/19

32

17

31

20

0

0

Start of Water Year

10/1/19

30

42

28

0

0

0

One Year Ago

8/6/19

95

5

0

0

0

0