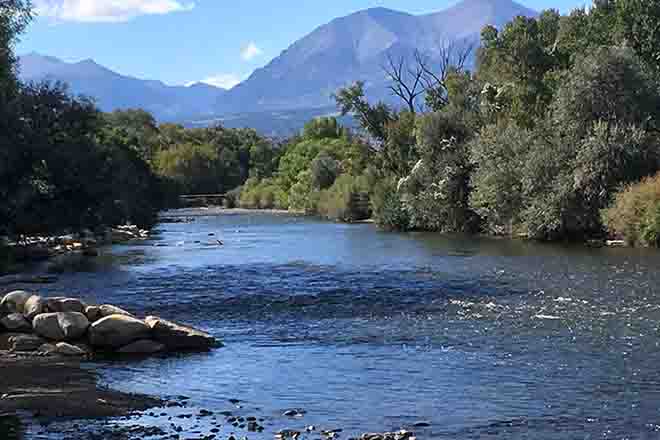 Published
Sunday, September 11, 2022
Colorado and the Arkansas River Basin continue to see improvements in drought conditions with almost 16 percent of the state of the state no longer experiencing drought, according to the latest U.S. Drought Monitor report. The report shows most of the basin as abnormally dry or drought-free with moderate drought in some areas.
Precipitation
The CoCoRaHS (Community Collaborative Rain, Hail and Snow) Network reports the following precipitation amounts for the past week:
Leadville - 0.40 inch.
Buena Vista - 0.28.
Salida - 0.37.
Westcliffe - 0.88 inch.
Canon City - 0.03-0.13 inch.
Walsenburg - 0.19.
Trinidad - 1.51 inch.
Pueblo - 0.01-0.09 inch.
Colorado Springs - 0.29-0.59 inch.
Rocky Ford - 0.58 inch.
Pritchett - 0.02.
Lamar - 1.60.
Reservoir Storage
The past week saw water storage in Pueblo Reservoir drop from 184,178 acre-feet to 182,230 acre-feet, putting the reservoir at 56.4% full . Water storage in Turquoise Lake decreased to 93,454.8 acre-feet or 72.2% full. The water level in Twin Lakes increased to 112,341 acre-feet, bringing the reservoir to 79.7% of full. The U.S. Army Corps of Engineers reports 15,003 acre-feet of water currently stored in John Martin Reservoir, which has a capacity of 348,599 acre-feet.
River Flows
Arkansas River flows near Leadville dropped to 40 cfs this week, while the gauge below Granite currently registers 218 cfs. The flow at the Wellsville gauge is 420 cfs while the flow at Canon City is currently 348 cfs. The river flow below Pueblo Reservoir is at 258 cfs, the same as a week ago, and the gauge near Avondale reports 396 cfs. The gauge near Rocky Ford reports 173 cfs after after dropping as low as 66.4 cfs the night of Aug. 25. Flows are 71.9 cfs below John Martin Reservoir, and the gauge at Lamar currently reports 53.5 cfs.
Calling Water Rights
The Arkansas Basin currently has 14 calling water rights, including the same four mainstem rights as last week: the Catlin Canal (1884 priority), the Lamar Canal (1886), the X-Y Irrigating Ditch (1889) and the Arkansas River Compact call at the Kansas state line. The most senior calling water right is the Hayden Supply Ditch (1864) on Greenhorn Creek. Next in seniority are the Hamlet Ditch on the Huerfano River, the Bannister Sump Well at the confluence of Fountain Creek and the Arkansas River, and the Gonzales Ditch on the Apishapa River. All three diversions have 1866 priority dates.
Additional calling water rights include the Coleman Ditch (1867) on Hardscrabble Creek, the Pulaski Ditch (1868) on the Purgatoire River, the Kittredge Ditch No. 2 (1870) on West Fourmile Creek, and the Hill Ditch (1873) on Howard Creek. Rounding out the active calls for this week are the Watson Ditch No. 2 (1874) on Fourmile Creek and the Marmaduke Ditch (1878) on Stout Creek.