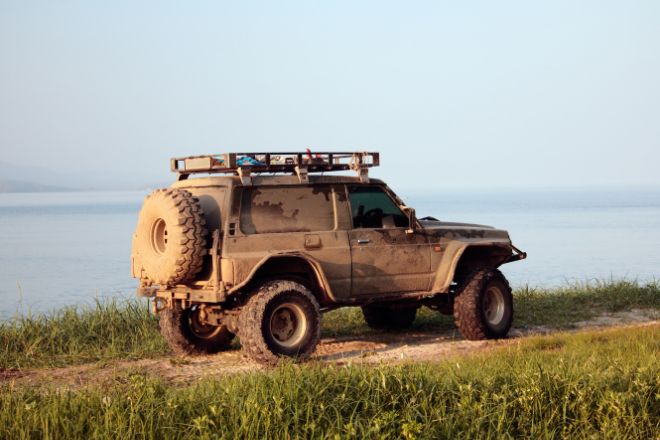 Published
Tuesday, July 26, 2022
Jeep might have started off as a military vehicle in World War II, but today many Americans enjoy using Jeeps as everyday vehicles. Just like Jeeps of the past, modern Jeeps excel in rugged environments. And one of the best ways to experience your unique rig's capabilities is to take it off-roading.
If you're a Jeep owner who hasn't been off-roading yet, you're missing out. Learn the best reasons to go off-roading in a Jeep.
1. Enjoy the outdoors
Off-roading is a lot of fun, and it's a great way to enjoy the outdoors. When you think of "off-roading," what comes to mind? Maybe images of Jeeps rock-crawling or crossing rivers. The truth is, you don't have to go on an extreme trail to have fun.
Search for easy off-road trails near your home or vacation spot. Your Jeep can safely and comfortably take you into terrain other vehicles can't. You can embark on an exciting outdoor trip by packing your vehicle with the right gear and food and planning your itinerary before heading out.
2. Experience a variety of trails
The next reason to go off-roading in a Jeep is that you can experience a variety of trails. Variety makes this a great hobby you can enjoy for years--there's always something new to discover. Whether you decide to visit multiple trails near you or want to travel to different ecological environments, each trail is unique and exciting.
A trail's geographical features influence how you should prepare for your trip. The more advanced the trail difficulty, the more likely you'll need to adjust your rig's height, tire pressure, or other features. No matter the trail difficulty, one of the best things you can do before off-roading is to protect the front end of your Jeep from debris.
3. Master new skills
Finally, off-roading helps you master new skills. As you spend time driving your Jeep on the trail, you'll appreciate capabilities that you've never experienced before. Driving down a road or through a parking lot just can't match the feeling of driving your Jeep on a trail.
Of course, you don't have to master new skills simply through personal trial and error. Off-roading forums, online communities, and groups that meet up in person are great sources of information. You'll learn the proper driving speeds for certain conditions, the right tire pressure, and other techniques. Even if you decide to keep your adventures relaxed, off-roading gives you the chance to develop skills people typically don't learn.