Image
Cold, frost coming to 23 eastern Colorado counties Sunday morning
Note – this article has been updated to reflect an expansion of the impacted area under a frost advisory.
Colder temperatures are coming to eastern Colorado Saturday night into Sunday morning according to the National Weather Service.
During the day Saturday, temperatures in the area are expected to be in the low 60s, slightly below normal, before dropping to the low 30s and upper 20s.
A frost advisory will be in effect from 3:00 and 8:00 a.m. Sunday. Frost is expected to develop as temperatures drop just below the freezing mark.
Image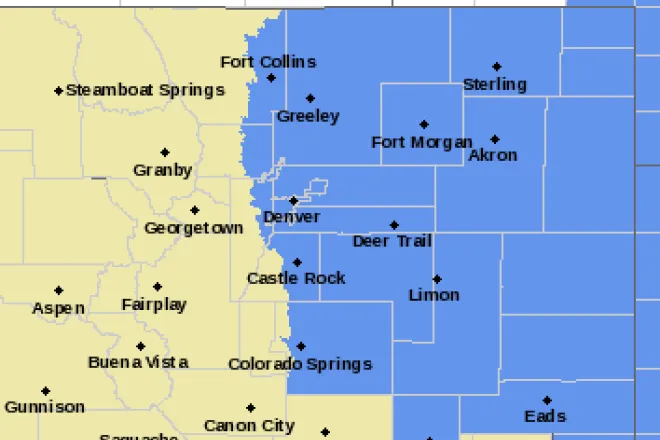 The advisory covers all or portions of the following Colorado counties
Phillips
Sedgwick
Logan
Weld
Larimer
Morgan
Boulder
Broomfield
Adams
Washington
Yuma
Jefferson
Denver
Arapahoe
Douglas
Elbert
Lincoln
Kit Carson
Cheyenne
El Paso
Crowley
Kiowa
Prowers
Frost and freezing conditions could kill crops, and may damage outdoor plumbing and drip systems.
The frost advisory extends into Kansas and Nebraska.
The NWS encourages taking steps to protect tender plants from the cold.