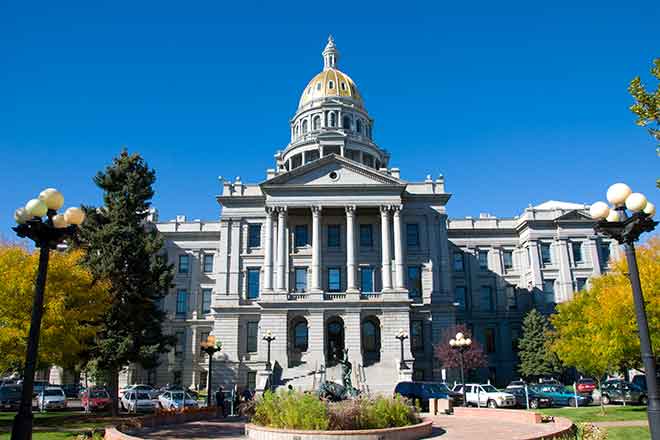 Published
Tuesday, February 4, 2020
By Derek Draplin | The Center Square
Bill would create new office for outdoor recreation industry
A bipartisan group of lawmakers on Thursday introduced legislation to create a new office for the outdoor recreation industry.
The office created by House Bill 1191 would "serve as Colorado's central coordinator of outdoor recreation industry matters," the legislation says. It would also advise the governor on policy related to the outdoor industry and promote economic development and conservation.
The new office would be housed within the Colorado Office of Economic Development.
Senate passes death penalty repeal
The Colorado Senate on Friday passed legislation to abolish the death penalty following hours of debate. Senate Bill 100 now goes to the state House, where Democrats are expected to pass the bill.
Democrats in the the Senate attempted but failed to pass a death penalty repeal bill last year, but was met with opposition from a key Democrat, Sen. Rhonda Fields, D-Aurora.
Fields again opposed the legislation this session, but SB 100 had the support of three Republican senators.
Bipartisan rural economic development bill passes Senate
A bipartisan bill was passed by the Colorado Senate on Wednesday that would create a program to offer economic development grants to rural areas in the state.
Senate Bill 002 is sponsored by Sens. Don Coram, R-Montrose, Kerry Donovan, D-Vail, and Rep. Barbara McLachlan, D-Durango.
The legislation would require a $1,037,248 general fund appropriation starting in fiscal year 2020-21 to fund the Rural Economic Development Initiative Grant Program, a fiscal note for the legislation says.
Bipartisan legislation to provide financial incentives to teachers fails
A bill that would have offered financial incentives to well-performing teachers to work in low-rated schools was postponed indefinitely in a Senate committee Wednesday despite bipartisan support.
Senate Bill 066, sponsored by Sen. Kevin Priola, R-Henderson, and Reps. Bri Buentello, D-Pueblo, and Lori Saine, R-Firestone, would have offered up to $12,000 to teachers in low-performing elementary schools.
Transportation funding bill dies
A bill to provide Colorado's roads and bridges with more funding from the state's general fund was shelvedin a Senate committee Wednesday.
Senate Bill 044 would have used 10 percent of revenue from sales and use taxes on vehicles for the state's highway users tax fund.
Highways would have received 60 percent of the allocation, while counties and municipalities would have received 22 percent and 18 percent, respectively.