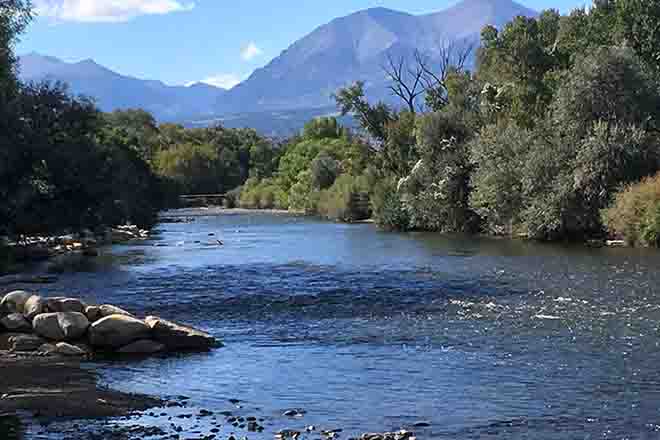 Published
Saturday, January 7, 2023
December brought above-average snowpack to most of Colorado, but Arkansas Basin snowpack remains low at 81 percent of median. Drought conditions have begun to worsen across the lower basin, according to the latest U.S. Drought Monitor report.
Snowpack
lon=-106.1100&zoom=8.5">Snowpack Telemetry (SNOTEL) sites relevant to the upper Arkansas Basin show snowpack near or above median, but the numbers drop off in the southern headwaters of the basin. The Saint Elmo SNOTEL site reports 127 percent of median for snow-water equivalent (SWE). At Brumley, near Independence Pass, the current reading is 93 percent, and at Glen Cove, north of Pikes Peak, 108 percent. Fremont Pass stands at 94 percent, but nearby Bucksin Joe in South Park reads 62 percent. In the Sangre de Cristo Range, Hayden Pass shows 49 percent of median. Current aerial snow survey data is not yet available in Colorado.
Reservoir Storage
Water storage in Pueblo Reservoir increased from 184,866 acre-feet to 195,933 during December, bringing the largest Fry-Ark Project reservoir to 60.7 percent full. Water storage in Turquoise Lake , currently 64.9 percent full, experienced a slight monthly decline of 511 acre-feet to 83,941.2. At Twin Lakes storage levels also decreased in December, from 114,014 acre-feet to 105,754 acre-feet or 75 percent full. The U.S. Army Corps of Engineers reports water storage in John Martin Reservoir, which is used to store water for the Winter Water Storage Program (WWSP), increased to 23,462 acre-feet at the end of December, up from 15,921 acre-feet.
River Flows
Arkansas River flows decrease during Colorado's winters, and ice limits the effectiveness of gauges in the upper parts of the basin, like the gauges near Leadville and below Granite, which are not reporting new data. The gauge at Wellsville, near Salida, reports 279 cfs and ice. The gauge at Canon City reports 322 cfs, and the flow below Pueblo Reservoir has increased to 106 cfs. River flow near Avondale is 280 cfs, almost unchanged from a month ago, while the flow at Rocky Ford has doubled to 141 cfs. Flow has dropped to 0.23 cfs below John Martin Reservoir but has increased to 19.4 cfs near Lamar.
Calling Water Rights
Eight water rights are currently calling for water in the Arkansas Basin. Additionally, the Maria Stevens Reservoir has an authorized diversion in place with an 1887 priority date. The most senior calling right is the 1862 Chilili Ditch, which began calling for Purgatoire River water Dec. 30, 2022. Otherwise, with the WWSP in effect, calling water rights remain unchanged from a month ago:
Gonzales Ditch, 1866, Apishapa River.
Coleman Ditch, 1867, Hardscrabble Creek.
Fernandez Ditch, 1868, Turkey Creek.
Upper Huerfano No. 2, 1869, Huerfano River.
Doris Ditch, 1870, Fourmile Creek.
Fort Lyon Storage Canal, 1910, Arkansas River mainstem.
Arkansas River Compact (with Kansas), 1949, Arkansas River mainstem.