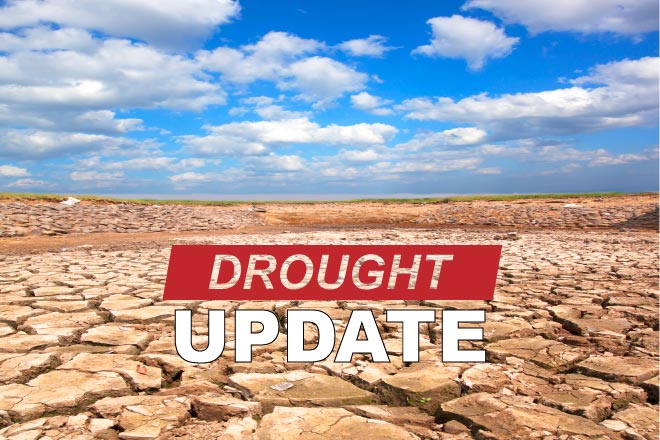 Published
Thursday, September 12, 2019
While Colorado enjoyed an unprecedented eight weeks completely free from drought and abnormally dry conditions, hot and dry late summer weather is quickly reversing the drought map as changes that began in August continue.
Abnormally dry areas expanded in northwest Colorado last week and grew further into west central counties in the latest report from the National Drought Mitigation Center. Southeast Colorado also saw an increase in abnormally dry conditions, particularly for Las Animas and Otero counties, along with smaller portions of Bent and Crowley counties.
Moderate drought, currently contained to the southwest corner of the state, nearly doubled in area over the past week. All of Montezuma, La Plata, San Juan and Dolores counties are in moderate drought. Western Archuleta and Hinsdale, southern Ouray and Montrose counties, and eastern San Miguel County were also touched by the expansion of moderate conditions.
Severe drought remains just outside Colorado's southwest border in New Mexico.
Overall, 43 percent of Colorado is abnormally dry, up from 38 percent one week ago. Moderate drought now covers 7 percent of the state up from three percent. The remainder of the state is free from drought and abnormally dry conditions.
One year ago, just 20 percent of the state was free from drought, while an addition nine percent was abnormally dry. Seven percent of Colorado was in moderate drought, with another 20 percent in the severe category. Extreme conditions impacted 35 percent of the state, and 10 percent in was exceptional drought. (Total does not equal 100 due to rounding.)
Drought classes include (ranked from least to most severe) D0 - abnormally dry, D1 - moderate, D2 - severe, D3 - extreme, and D4 - exceptional drought.
| | | | | | | | |
| --- | --- | --- | --- | --- | --- | --- | --- |
| Week | Date | None | D0 | D1 | D2 | D3 | D4 |
| Current | 9/10/19 | 50 | 43 | 7 | 0 | 0 | 0 |
| Last Week | 9/3/19 | 59 | 38 | 3 | 0 | 0 | 0 |
| 3 Months Ago | 6/11/19 | 100 | 0 | 0 | 0 | 0 | 0 |
| Start of Calendar Year | 1/1/19 | 18 | 16 | 11 | 28 | 16 | 11 |
| Start of Water Year | 9/25/18 | 14 | 14 | 8 | 16 | 32 | 16 |
| One Year Ago | 9/11/18 | 20 | 9 | 7 | 20 | 35 | 10 |