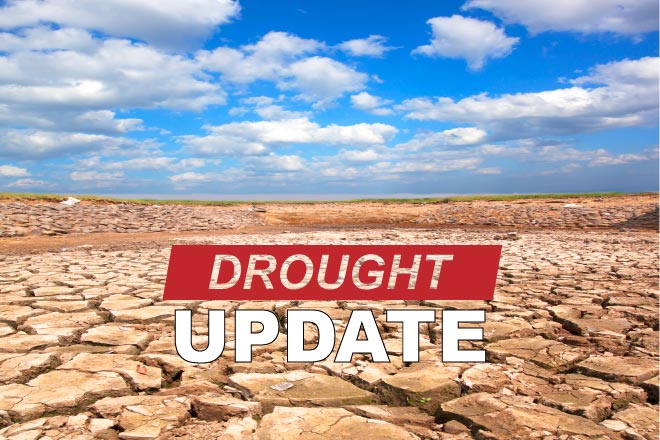 Published
Saturday, August 17, 2019
Abnormally dry conditions have continued their return to Colorado following an unprecedented eight-week period earlier in the summer where the state was free from drought and dry conditions.
Portions of western San Miguel and southwest Montrose counties joined southwest Colorado neighbors Dolores, Montezuma, La Plata and Archuleta counties in abnormally dry conditions. Baca County in southeast Colorado and Moffat and Rio Blanco counties in the northwest also have areas experiencing abnormally dry conditions.
Moderate drought remains just short of reaching Colorado from New Mexico.
Late season snow storms produced record-level snowpack for Colorado's mountains, and helped erase drought state. For much of 2018, western Colorado suffered under extreme and exceptional drought, the two worst categories. While not as severe or prolonged, drought impacted most other areas in the state over the course of 2018, and triggered assistance programs from the U.S. Department of Agriculture and Small Business Administration as recently as mid-June.
The mountain snowpack contributed to runoff that was at 145 percent of average during the spring according to the U.S. Department of the Interior Bureau of Reclamation. That was enough to raise Lake Powell's elevation by more than 50 feet this year. The lake is still 81 feet below full.
Water storage in the Colorado River system reached 55 percent of its capacity, an increase from 49 percent in August 2018, however officials remain cautious.
"One good year doesn't mean the drought is over," said Reclamation Commissioner Brenda Burman. Despite 2019's above-average snowpack, the Colorado River Basin is still in a drought spanning 20 years and is one of the driest periods in the past 1,200 years.
Downstream, Lake Mead is projected to begin the year below a drought contingency plan threshold, causing Arizona, Nevada and Mexico to see reduced deliveries of water from their allotment under a multi-state agreement.