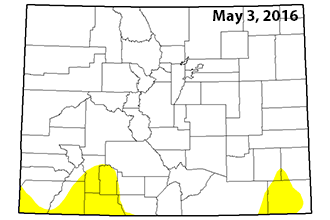 Published
Saturday, May 7, 2016
By Chris Sorensen
Following another round of state-wide precipitation, remaining areas of moderate drought in Colorado dissipated and abnormally dry areas receded in most areas.
Kiowa County has returned to normal conditions after rain and snow a week ago, as have most neighboring counties throughout southeast Colorado.
An area of moderate drought across most of Baca County and smaller portions of Bent, Prowers and Las Animas Counties has turned to abnormally dry conditions. Portions of southwest Colorado also remain abnormally dry.
Overall, just under seven percent of Colorado falls into the abnormally dry category, down from over 23 percent last week, in addition to slightly over two percent that had been in moderate drought.