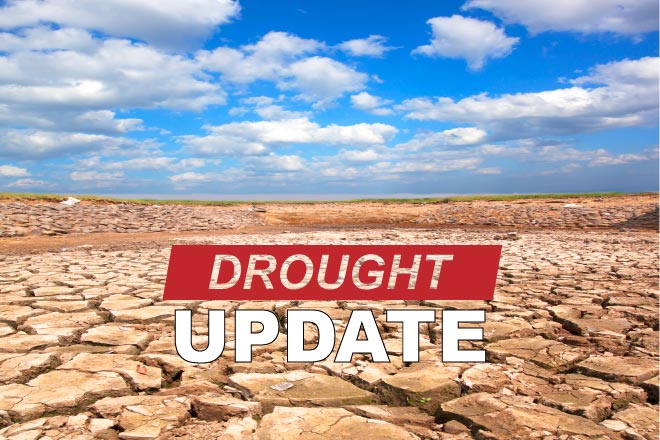 Published
Thursday, June 25, 2020
Moderate and severe drought advanced northward on the plains of eastern Colorado this week according to the latest update from the National Drought Mitigation Center.
While extreme drought - the second worst category - remained steady across most of southern and southeast Colorado, severe conditions advanced in Washington and Yuma counties. Moderate drought expanded to cover the remainder of Yuma County, along with an additional area in Washington County that had been abnormally dry. Moderate conditions also entered southeast Logan and most of Phillips counties. Abnormally dry conditions now cover most of Logan County, the remainder of Phillips County, and all of Sedgwick County.
Above-normal temperatures, strong wind and little rain have contributed to rapid drought expansion in Colorado over the past month. Soil moisture continues to decline, contributing to cattle sales by ranchers as pasture conditions deteriorate, and yield concerns about wheat crops as harvest season gets underway. Southeast counties, where harvest has begun, are seeing low test weights.
Nick Palmer at Golden Plains Insurance Agency in Lamar stated Thursday that, "generally, field conditions are fair to poor, with very small pockets of fair to good - mostly caused by isolated thunderstorm events."
Governor Jared Polis activated Colorado's Drought Task Force and Phase 2 of the State Drought Mitigation and Response Plan this week as drought conditions deepen. All or portions of 40 of the states 64 counties are experiencing severe or extreme drought. Phase 2 activates the Agricultural Impact Task Force, which will conduct an initial assessment on physical and economic impacts and recommend opportunities for mitigation.
The seasonal drought outlook from the Climate Prediction Center shows drought increasing through September. Portions of central and northwest Colorado that are currently drought-free or abnormally dry are expected to fall to at least moderate drought over the coming months. The precipitation outlook for July across much of that area shows a 33-40 percent chance of below-normal precipitation. Most of Colorado has a 50-60 percent chance of above-normal temperatures during the coming month.
Overall, 33 percent of Colorado is in extreme drought, unchanged from the prior week. Severe and moderate conditions both increased one percent to 23 and 12 percent, respectively. Abnormally dry areas decreased one percent to 15 as they were overtaken by more severe conditions. Only 17 percent of the state is drought-free, down one percent from the previous week.
Just under 1.5 million people in Colorado live in drought-impacted parts of the state.
More than two-thirds of the state is experiencing moderate drought or worse. One year ago, Colorado was free from abnormally dry conditions and all levels of drought for the first time since tracking began in 2000.
Drought classes include (ranked from least to most severe) D0 - abnormally dry, D1 - moderate, D2 - severe, D3 - extreme, and D4 - exceptional drought.
Colorado Drought by the Numbers

Week

Date

None

D0

D1

D2

D3

D4

Current

6/23/20

17

15

12

23

33

0

Last Week

6/16/20

18

16

11

22

33

0

3 Months Ago

3/24/20

30

24

43

3

0

0

Start of Calendar Year

12/31/19

32

17

31

20

0

0

Start of Water Year

10/1/19

30

42

28

0

0

0

One Year Ago

6/25/19

100

0

0

0

0

0