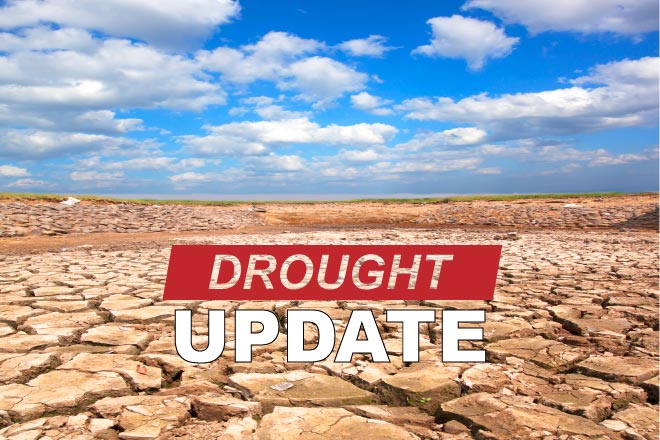 Published
Saturday, May 23, 2020
Two weeks after extreme drought returned to Colorado, the impacted area has continued to expand according to the latest report from the National Drought Mitigation Center.
Extreme conditions expanded to the west and south, reaching portions of Montezuma, Dolores San Miguel and Ouray counties. All or portions of San Juan, La Plata, Archuleta, Hinsdale, Mineral, Saguache, Rio Grande, Conejos, Alamosa, Costilla, Custer, Huerfano and Las Animas counties in south central Colorado were in the third worst category on the drought scale during the prior week.
In the southeast, extreme drought continued to encompass all or parts of Lincoln, Cheyenne, Crowley, Kiowa, Otero, Bent, Prowers, and Baca counties. The extreme northeast corner of Las Animas County is also impacted by extreme conditions in addition to western portions of the county.
Moderate drought expanded slightly in northwest Colorado, mainly in Eagle and Pitkin counties, while moderate and severe conditions retreated in Washington and Yuma counties on the eastern plains following recent rains.
Abnormally dry conditions dropped from Weld, Morgan, Logan, Phillips and Sedgwick counties as parts of the region recorded precipitation 150-400 percent above normal for the week.
Overall, 23 percent of Colorado is drought-free, up two points from the previous week. Abnormally dry conditions dropped to 12 percent of the state from 17, while moderate drought increased two points to 19 percent. Severe conditions dropped from 29 from 31 percent. Extreme conditions added three percent to cover 18 percent of the state.
Nearly 1.6 million people in Colorado are in drought-impacted areas. Dry conditions have contributed to fire danger concerns. Saturday, more than half of the state's counties were under a red flag warning due to dry, windy conditions and low relative humidity.
One year ago, Colorado was free from abnormally dry conditions and all levels of drought for the first time since tracking began in 2000.
Drought classes include (ranked from least to most severe) D0 - abnormally dry, D1 - moderate, D2 - severe, D3 - extreme, and D4 - exceptional drought.
Colorado Drought by the Numbers

Week

Date

None

D0

D1

D2

D3

D4

Current

5/19/20

23

12

19

29

18

0

Last Week

5/12/20

21

17

17

31

15

0

3 Months Ago

2/18/20

29

27

41

3

0

0

Start of Calendar Year

12/31/19

32

17

31

20

0

0

Start of Water Year

10/1/19

30

42

28

0

0

0

One Year Ago

5/21/19

100

0

0

0

0

0