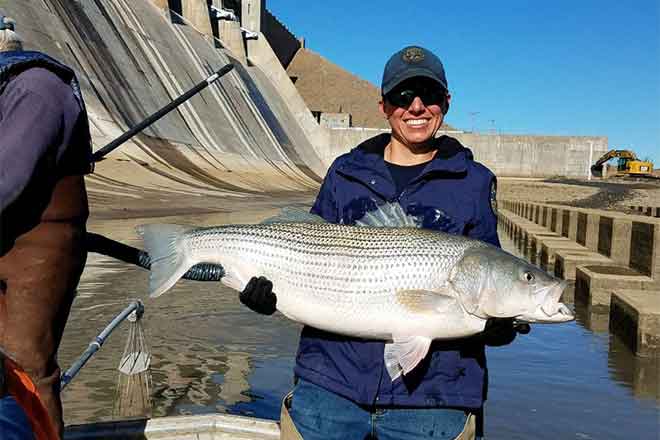 Published
Saturday, May 11, 2019
A few weeks ago, staff at Colorado Parks and Wildlife's John Martin Reservoir State Park watched as the U.S. Army Corps of Engineers opened the gates on the massive 70-year-old dam for the first time since November 1.
This is big news to anglers who covet fishing in the stilling basin at the base of the structure.
For those who prefer to fish the reservoir, there's also good news. Wiper are biting and warm weather should heat up action for walleye and crappie anglers, said Dan Kirmer, park manager.
There's extra incentive for fish the deep water this year because of a stilling basin reclamation project last fall when teams of CPW staff and volunteers and U.S. Army Corps of Engineers staff rescued huge fish stranded in the basin. The fish were removed in preparation for a dredging maintenance project.
There were several trophy-sized channel catfish, blue catfish, flathead catfish and striped bass.
Many of these fish were potential state records and they were returned to the reservoir where they are waiting for some lucky angler with the right bait.
"We knew there was a variety of fish in the basin, but we were overwhelmed by the sheer numbers and sizes of the fish," said Jim Ramsay, CPW aquatic biologist based in Lamar. "It turned out to be a far bigger project than anticipated. The dollar value of the rescued fish would be estimated in the tens of thousands."
So take your choice, the reservoir or the stilling basin below the dam. And don't forget Lake Hasty, below the reservoir. The same day the gates opened, a CPW hatchery crew was at the park stocking rainbow trout into Lake Hasty.
"This is a great time of year to visit John Martin," Kirmer said. "Warm-water fish are biting. Migrating birds are filling the sage prairie around the lake with their colors and songs. And we have special events planned in coming weeks for visitors."
Kirmer also noted John Martin has joined the other Southeast Region state parks in a new reservation-only pilot program for this season.
"Anyone wanting to camp with us must have a reservation before you can occupy a campsite," Kirmer said, adding the reservation system is simple and offers advantages. "There is no additional reservation fee, and we no longer have a three day black-out window."
Kirmer said campers should call 1-800-244-5613, visit our website at https://cpw.state.co.us/cpwshop or stop in at the office before occupying any camp site.
"Our long-term hope is to make reservations easier for our customers and better fit the current trends of campers needs," he said.