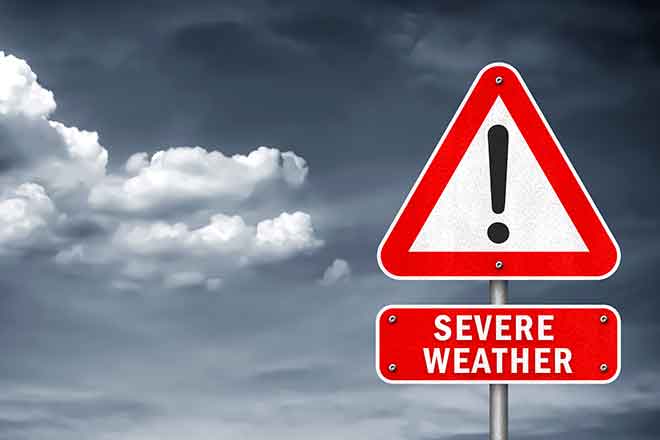 Published
Sunday, July 11, 2021
An intense storm system moving across eastern Colorado Friday night damaged trees, vehicles and buildings in Kiowa County.
A severe thunderstorm watch was issued by the National Weather Service shortly before 9:00 p.m. Friday which included Kiowa, Prowers, Cheyenne and Kit Carson counties. The watch quickly escalated to thunderstorm warnings and, for a few minutes, tornado warnings.
On the western edge of one storm near Eads, an unofficial wind gust of 55 miles per hour was recorded just after 9:30 p.m. Colorado Mesonet reported on social media a gust of 59.5 mph near Holly in Prowers County after 10:00 p.m. Wind damage was already being noted across southeast Colorado.
Because our anemometers are 2-3 meters above ground (rather than 10 m at NWS stations, where wind is faster), it's not too often we record true severe (58+ mph) wind gusts. But our Holly station did during last night's storms. Reports of wind damage across SE CO. @NWSPueblo #cowx pic.twitter.com/XZvmgAP80J

— CoAgMET (@ColoradoMesonet) July 10, 2021
In another social media report, Sean Harkness posted photos of extensive damage in the Towner area, including a heavily damaged shop building and steel grain bins that had been blown off their foundations near the grain elevator and flattened.
A few pics from my dad on the storm that came through last night. Windier than I realized you the road in Towner. #cowx pic.twitter.com/7SOCdrugfx

— Sean Harkness (@harkness_sean) July 10, 2021
Should be two steel bins sitting between the elevator and the scale house. #cowx pic.twitter.com/XB8EqPsaca

— Sean Harkness (@harkness_sean) July 10, 2021
In Eads, tree branches were snapped, including large branches at the Kiowa County Courthouse where a large section of one tree fell. Similar damage was noted near the schools and athletic fields.
Power outages, some lasting for hours, were reported due to damage to electric lines and poles.
Rainfall amounts ranged from just a few hundredths of an inch in central Kiowa County to an inch or more with intense storm cells that moved across the eastern half of the county.
While Friday's watch was originally expected to last until the early morning hours of Saturday, it was cancelled at 11:39 p.m. as storms rapidly moved out of the area into Kansas.