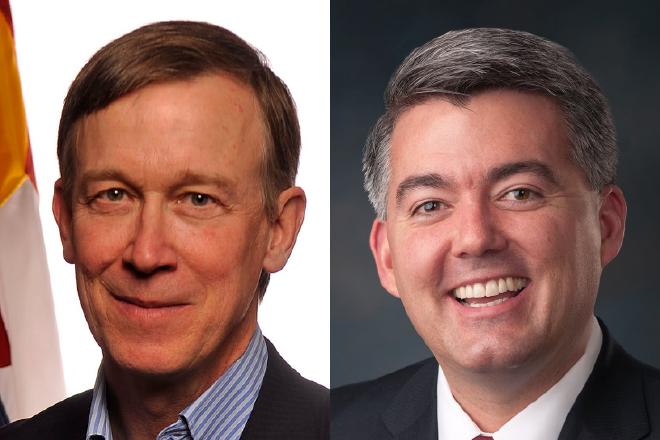 Published
Thursday, October 15, 2020
(The Center Square) - Incumbent Republican U.S. Sen. Cory Gardner and former Democratic Gov. John Hickenlooper squared off in the fourth and final scheduled Colorado Senate debate just three weeks before Election Day.
The debate, which took place at Colorado State University in Fort Collins, was hosted by 9News, Colorado Politics, the Coloradoan, and several television stations from across the state. Tuesday night's debate follows a wide-ranging debate Friday night, the same day general election ballots began going out to Colorado voters.
Both candidates were notably asked about several ballot measures Colorado voters are currently deciding on leading up to November 3.
COVID-19 Pandemic Relief
Both Gardner and Hickenlooper said Tuesday night they support more COVID-19 pandemic relief.
"We must pass a relief package out of the United States Congress that follows up on the relief packages that we've already passed," Gardner said, noting it would include unemployment benefits, education funding, more vaccines, and more small business support.
"The most important thing we can do is pass relief," Hickenlooper said, suggesting Gardner should support pandemic relief over confirming Supreme Court nominee Amy Coney Barrett.
Gun Control
Hickenlooper said he "stands by my record on gun safety," noting how Colorado passed universal background checks while he was governor. Hickenlooper also signed legislation restricting magazines to 15 rounds or less as governor.
Gardner reassured voters that he supports the Second Amendment, using a family example.
"If I want to give my son the 12-gauge that I grew up learning to hunt with, I ought to be able to do that," he said.
Supreme Court
Gardner defended his previous comments on not filling a Supreme Court vacancy ahead of an election, saying "the constitution very clearly allows a president to nominate and the Senate to provide advice and consent. We did not provide that consent in 2016 based on the precedent."
Hickenlooper did not directly respond to a "yes, no, or I don't want to say" question on court packing."
"It's a hypothetical," he said. "I don't like the idea of court packing, we're seeing it right now ... in full fury."
Gardner knocked Hickenlooper for not saying whether he'd support court packing and said he would oppose Republican attempts to pack the court.
Gallagher Amendment Repeal Measure
Hickenlooper said he supports Amendment B, a ballot measure that asks voters to repeal the Gallagher Amendment.
Gardner said he opposes the measure because he doesn't "believe in increasing taxes on residences."
Abortion Ban Measure
Gardner said he supports Proposition 115, which would outlaw all abortions after 22 weeks of gestation.
Hickenlooper said he does not support the measure.
National Popular Vote Measure
Hickenlooper said he supports Proposition 113, which asks voters if Colorado should join the National Popular Vote Interstate Compact.
Gardner said he does not support the measure.
Paid Family Leave Measure
Gardner did not directly answer whether he supports Proposition 118, which would establish a paid family leave insurance program funded by payroll taxes, saying, "I'm still trying to figure out the impact on businesses."
Hickenlooper said he supports the measure because "we're the only industrialized country that doesn't have paid family leave."