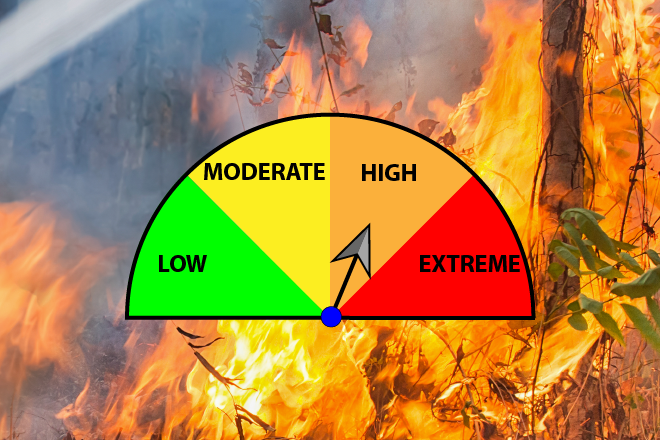 Published
Wednesday, March 10, 2021
Portions of seven states, including southeast Colorado, are under a red flag warning for the risk of fires Wednesday, while concerns for a strong winter storm over the weekend are increasing.
After several days of similar warnings in Colorado, temperatures cool slightly, dropping to the 60s Wednesday after reaching well into the 70s to start the week. While temperatures have fallen, strong winds and low humidity remain, raising the fire concerns.
West winds gusting to 50 miles per hour are predicted, along with relative humidity falling below 10 percent in some areas. The conditions set the stage for rapid fire growth for any fires that do start.
Wednesday's warning will be in effect from 10:00 a.m. until 6:00 p.m. for all of Kit Carson, Cheyenne, Kiowa, Prowers, Baca, Bent, Otero, Crowley, and Lincoln counties. Substantial portions of Elbert, El Paso, Fremont, Pueblo, Huerfano and Las Animas counties are also included.
Continued warm, dry and windy conditions have also created fire concerns that extend to most of New Mexico and Kansas. Smaller areas of Texas, Oklahoma, Nebraska and Iowa are also facing high fire danger.
Later in the week, concerns turn to a significant winter storm for Colorado, though uncertainties remain. Currently, the brunt of the storm is expected to impact the state Friday night through Sunday.
In southeast Colorado, the main areas impacted are expected to be the southern mountains and Pikes Peak region, where heavy snow is likely, and blizzard conditions are possible for parts of El Paso County Saturday.
Further east on the plains, rain and snow are predicted, though lesser amounts are expected. A slight southern shift in the storm track could substantially raise snow amounts for the plains while decreasing the impacts to the Pikes Peak area.
In northeast Colorado, interest is focused on late Friday into Saturday, though forecast models have large disagreements. Thunderstorms are possible to kick off the severe weather period, followed by the potential for moderate to heavy snow. With 1.5 to 3 inches of moisture potentially available, one to three feet of snow could be generated along the northern front range. As in southern Colorado, the storm track will have a substantial impact on snowfall amounts.
Check back for storm updates over the coming days.