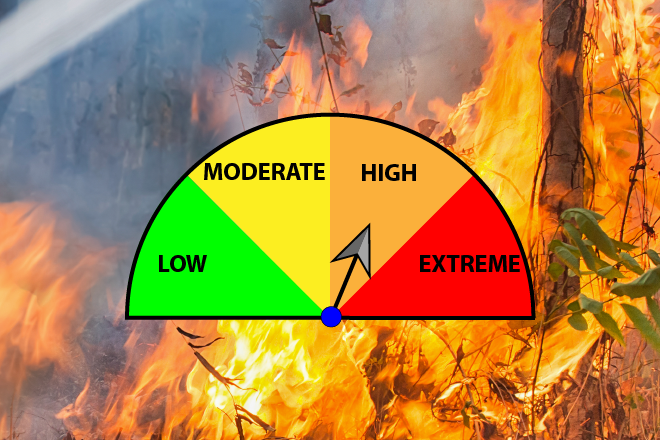 Published
Saturday, April 1, 2023
Southeast Colorado and the San Luis Valley return to a red flag warning for high fire danger Saturday, with a portion of the area under a fire weather watch for Sunday.
The warning is expected to be in effect from 11:00 a.m. until 8:00 p.m. Temperatures are predicted to be in the 60s to low 70s, with relative humidity falling below 10 percent. Winds could gust up to 45 miles per hour.
Red flag warnings extend into portions of neighboring Kansas, New Mexico, and the Oklahoma panhandle.
While maximum wind gusts have been decreasing from earlier in the week, the southeast plains have been at elevated risk for fires for much of the past week. Red flag warnings were issued Tuesday, Thursday, and Friday.
Sunday, a fire weather watch is in effect along eastern slopes of the southern mountains, continuing into neighboring plains counties. Temperatures in the 70s are expected, along with wind speeds in the 20-25 mph range.
The NWS recommends avoiding any activities which could start a fire, as well as avoiding agricultural burning.
A red flag warning means that critical fire weather conditions are either occurring now, or will shortly. A combination of strong winds, low relative humidity, and warm temperatures can contribute to extreme fire behavior.
A fire weather watch means that critical fire weather conditions are forecast to occur. Watch for later forecasts and possible red flag warnings.