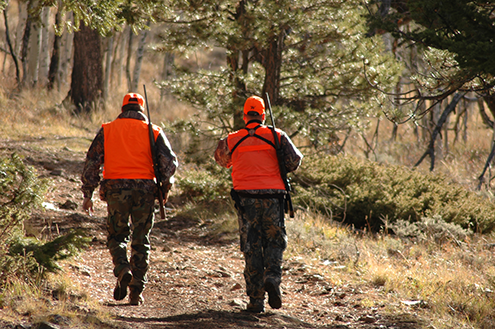 Published
Wednesday, August 15, 2018
Fires have burned in several mountain areas in Colorado this summer. So if you're planning to hunt on lands managed by the U.S. Forest Service or the Bureau of Land Management, check with those agencies for the latest backcountry travel, fire and closure information.
To check on national forest lands in Colorado, start by going to the web site of the U.S. Forest Service.
To check on Bureau of Land Management, go to the BLM web site.
A link to some closure information can also be found on the Colorado Parks and Wildlife web site, but the information might not be the latest available. Check CPW's "Know before you go" link.
While fires on national forest lands have ranged in size from 5,000 to 50,000 acres, the burned areas are small compared to the size of each national forest and Game Management Unit. For example, the 416 Fire near Durango comprised about 50,000 acres but the entire San Juan National Forest encompasses 1.8 million acres. The vast majority of federal public lands are unaffected by the fires.
"While fires have gotten a lot of attention they should not hamper big-game hunting in an entire Game Management Unit," said Renzo DelPiccolo, area wildlife manager in Montrose for Colorado Parks and Wildlife. "Hunters can get the best information about federal lands by contacting the appropriate land management agency."
Bow hunters and muzzleloader hunters concerned about closures should check on conditions as soon as possible. The bow season starts Aug. 25; muzzleloader season starts Sept. 8.
The first regular rifle season does not start until Oct. 13 so conditions in specific areas could change substantially between now and then.