Image
Jan Richards Named Eads Chamber Citizen of the Year 2017
The woman who has been chosen as Citizen of the Year for 2017 has been active in town and county improvements for years. We have seen that she is able to make amazing contacts with people or organizations toward good things for our county.
Jan Richards began her fulltime career in Eads as the Elementary School Secretary and an EMT after moving here from St. Louis, Missouri. She ran her own plumbing business out of her house.     After a stint as Deputy Town Clerk, she took over the helm of Kiowa County Economic Development Foundation 10 years ago.
We cannot begin to tell all of Jan's accomplishments initiated for the betterment of the county but here are a few:
Reclamation of Jackson's Pond, restoration of the Jackson's Dairy barn, marketing and selling of the Kiowa Creek Estates residential and commercial lots and working with volunteers to maintain the Kiowa Creek Natural Area.
Image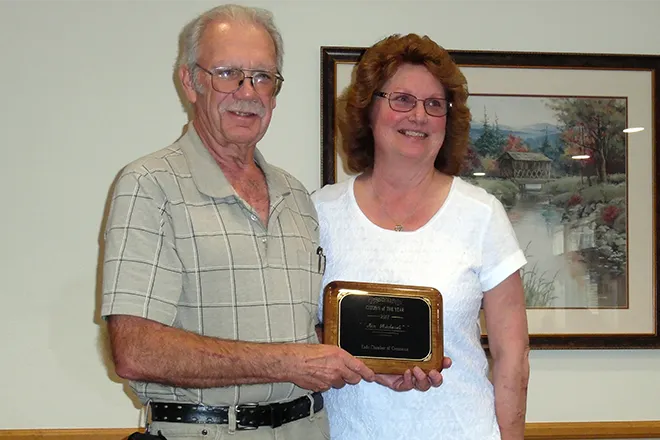 She organizes the annual Kids' Fishing Day and works as a "friend" of the Sand Creek Massacre National Historic Site. As a "friend," she is responsible for logistics such as meeting locations, food, motel reservations, etc. that must run through and be paid for by a 501(c)3.
Jan headed up Pedal the Plains, which was an impressive 3- day event for bicyclists from all over to come to Eastern Colorado to see what we are all about. She worked tirelessly with her very efficient committee and numerous volunteers to coordinate vendors, entertainment, food, sleeping arrangements, etc. for over 800 cyclists and their families.
Last year Jan took it upon herself to bring "Dream Big Eads" to our community. She was very thankful that our school district then agreed to be the lead for this massive aeronautical education day for students from 10 area schools and the county residents.
She continues to work toward projects such as a licensed child care center and six apartments to help with our housing shortage.
Jan follows her and her husband, Dan's kids, grandkids and great-grandkids faithfully in all their endeavors as her entertainment.
We, the Chamber of Commerce, do thank Jan for her dedication to our communities since she arrived here in 1971.