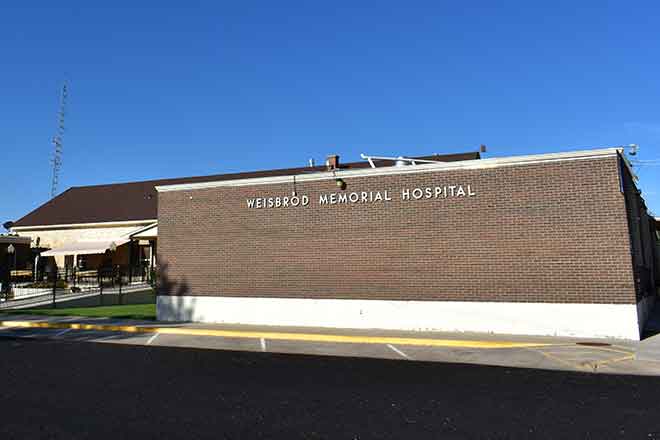 Published
Saturday, January 23, 2021
RECORD OF PROCEEDINGS
Kiowa County Hospital District & County Board Meeting October 27, 2020
The Kiowa County Hospital District and County Board met in regular session on October 27, 2020 at 6:31 p.m. at the Cobblestone Inn Meeting Room and also via Zoom. At this time, individuals can attend the meeting via Zoom or in person.
District Board members present were: Mary Eikner, Sylvia Shields, and Meghan Buck. Absent: Cathryn Anderson and Priscilla Waggoner (called).
County Board members present were: Ken Flory, Craig Kerfoot, and Dale Back. Absent: Kevin Davis and Whitney Barnett (called).
Others present: Shannon Dixon, Char Korrell, Ellen Lane, Dawn Back, Renay Crain, and Beth Spady.
CALL TO ORDER
The meeting was called to order by Sylvia Shields, Chairman of the Board at 6:31 pm.
COUNTY VOTING MEMBER SELECTION
Dale Back, Ken Flory, and Craig Kerfoot.
APPROVAL OF MINUTES
A motion was made by Craig Kerfoot to approve the September 22, 2020 minutes as presented after a correction is made regarding the clinic office space motion. Motion seconded by Meghan Buck. All aye.
APPROVAL OF AGENDA
A motion was made by Mary Eikner to approve the agenda after the addition of Solar Array under old business. Motion seconded by Ken Flory. All aye.
PUBLIC COMMENT
No one was present for public comment.
CREDENTIALING
Dr. Veronica Sue, Dr. Jesus Sanchez-Contreras, Dr, Kathryn Klima and Dr. Annie Lim were approved for telemedicine privileges by Med Staff. A motion was made by Mary Eikner to approve all credentialing as presented above and seconded by Meghan Buck. All aye.
POLICIES & PROCEDURES
No policies to present to the Board this month
STANDING REPORTS
CEO
Kyle Pickerill with Ark Valley Accumed notified KCHD that they would no longer be able to be our consulting pharmacist. Our current agreement will end on December 31, 2020. KCHD is looking at other options.
Staff continue to work on the information needed to meet the new CMS (Centers for Medicare and Medicaid Services) transparency requirements.
All staff have been asked to provide ideas and suggestions for the new KCHD facility. These ideas will be shared with the facility planner to be incorporated into the planning process.
KCHD submitted a team-based care grant. This grant would provide technical assistance in defining roles and responsibilities while promoting a team-based care approach. There is no match required for this funding opportunity. If the grant is awarded, work could begin in March of 2021.
We are in process of transforming Room 7 into a negative pressure room.
The COPIC plan was renewed. There was a 30% increase in premium due in large part to cyber security issues in the industry. All KCHD email accounts have two factor authentication.
HRSA (Health Resources and Services Administration) will be performing a desk audit of the 340B program at KCHD. Requested information will be submitted to HRSA for review.
The grant submitted by KCHD to cover the expenses associated with a new camera and security system was denied. These expenses could be covered by COVID funds. A motion was made by Ken Flory to purchase the security system at $18,900. Motion seconded by Mary Eikner. All aye.
Eastern Plains Healthcare Consortium (EPHC) is currently focused on three items. These items include On Demand Hospital Information Network (ODHIN) data through the Colorado Hospital Association, possibility of a shared insurance network, and pursuing an innovative grant process for the Community Health Assess and Rural Transformation (CHART) model.
CFO
The September financials were reviewed and showed a profit for both the month and year. In September, days cash on hand was 138 and days in AR was 97.
The Board reviewed a full-time equivalent report pertaining to staffing in each department.
CNO
Staff continue to work on the AL TO (Alternatives to Opioids) program at KCHD.
The skills fair for Nursing staff will be held on November 3 and November 5.
KCHD is working towards offering chemotherapy through our outpatient treatment room. We have agreements in place and will have staff attend training in December of 2020. The goal is to offer this service to our community in January of 2021.
HOSPITAL QUALITY & SAFETY
The Quality Report Scorecard was reviewed. Various measures including infection rate, medication errors, and falls were reviewed by the Board.
OLD BUSINESS
DEPARTMENT OF LOCAL AFFAIRS (DOLA) GRANT UPDATE
The Solar Array was carved out of the original DOLA grant in an effort to obtain additional funds. The proposal has been submitted but KCHD can decline if awarded. We will discuss our options further when we receive notification from DOLA.
The electrical work is still in process and the chiller should arrive soon. Both the project manager and contractors are doing a good job of keeping the project on track.
KIOWA COUNTY ECONOMIC DEVELOPMENT FOUNDATION (KCEDF) LAND PARCEL
A motion was made by Mary Eikner to designate Char Korrell, CEO as the authorized party and signer for KCHD for purposes of executing the land purchase agreement with KCEDF. Motion was seconded by Sylvia Shields. Craig Kerfoot was recused from the vote. All aye.
Closing is scheduled for Thursday morning.
COVID-19 UPDATE
KCHD staff and local partners continue to meet via zoom weekly to receive updates and discuss any changes to our planning process and protocols. There are four positive cases in Kiowa County.
KCHD is utilizing one of our emergency preparedness trailers as the new triage space during the week. The emergency department triage area will be utilized during the evenings and on weekends.
CLINIC OFFICE SPACE
The new office trailer is scheduled to arrive on Wednesday of this week. The carport has been relocated across the street to ensure adequate space.
NEW BUSINESS
2021 BUDGET
A preliminary budget was presented to the Board for 2021. KCHD staff continue to work on gathering information from each department regarding capital items as well as day to day expenses.
AMBULANCE
The Board discussed the County Ambulance Agreement set to renew in January of 2021. The termination clause requires notice of 180 days from either party to term the agreement. After discussion, a motion was made by Craig Kerfoot to not renew the Ambulance Agreement beyond the termination clause requirement. Motion was seconded by Mary Eikner. Meghan Buck abstained from the vote. Ken Flory was recused from the vote. All aye.
Char Korrell will meet with the commissioners to advise that KCHD will provide administration of the ambulance through April 30, 2021 and will work to help with a smooth transition.
ADJOURNMENT
The meeting was adjourned at 7:47 pm.
Respectfully Submitted,
Kiowa County Hospital District Board
Mary Eikner, Secretary-Treasurer