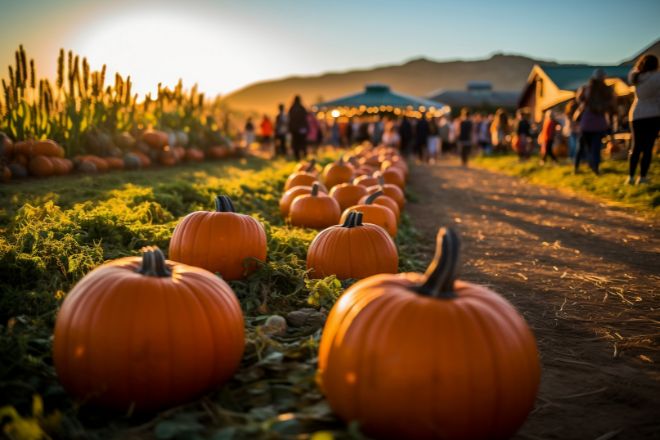 Published
Tuesday, September 5, 2023
Fall is one of the most beautiful seasons of the year. With its picturesque landscapes, colorful foliage, cool weather, and pumpkin-spiced everything, this season is perfect for outdoor activities. Whether you're looking to enjoy a leisurely stroll or spend time with your loved ones, there are plenty of outdoor activities that allow you to appreciate this delightful season. Check out these ideas for fun outdoor activities to help you make the most of fall before the winter weather sets in.
Get in the spirit at a pumpkin patch
Fall is pumpkin patch season. Whether you're relaxing at a picnic table with homemade apple cider or trekking through a field to find the best pumpkins to bring home, pumpkin patches are a fantastic opportunity to get outside, enjoy the fresh air, and bask in all the fall beauty. You can even find hayrides, corn mazes, and other fun autumnal activities to enjoy while you're there. With so many incredible pumpkin patches and apple orchards to choose from, you'll never run out of things to do this season.
Unplug with a camping trip
If you're looking for adventurous outdoor activities to help you make the most of fall, there's no better choice than packing your sleeping bag and pitching your tent in a gorgeous park or campground. Camping is an excellent way to immerse yourself in nature and take in all the beauty of the season--especially when you get to camp in Colorado. Explore the surrounding scenery during the day, enjoy the cool, crisp air at night, roast marshmallows over the campfire, and take in all the stunning fall foliage around you. Just make sure you pack appropriate camping gear and always follow campsite safety guidelines.
Bask in the scenery with a hike
With cooler temperatures and stunning scenery, fall is the perfect season to explore the great outdoors by taking a hike. A fall hike can be therapeutic, refreshing, and exhilarating, depending on where you go and what you want out of the experience. Whether you're an experienced hiker looking for a thrilling mountain path or a beginner just seeking a beautiful trail to explore, there are plenty of options that cater to all skill levels.