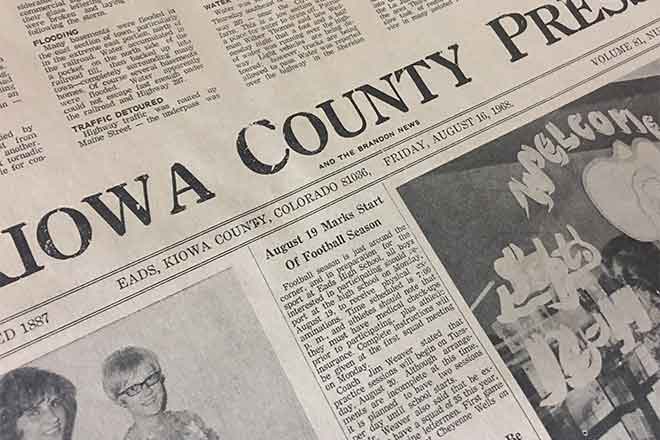 Published
Saturday, October 22, 2016
15 Years Ago
October 26, 2001
Greeley Gas files for 35% decrease to their natural gas customers in their Southeast service area.
Kiowa County Public Library District applied for and received from Bill and Melinda Gates Foundation Grant for $4905 with which to purchase a new public access computer.
USDA Update: With 99% already seeded, winter wheat planting for the 2002 crop is virtually complete. Emergence is 89% completed most good to fair condition.
25 Years Ago
October 24, 1991
To better serve the people of Kiowa County, the Kiowa County Public Library will extend its hours beginning in November. The Library will be open until 7 pm on Monday.
The upcoming vote regarding the increase in mill levy dedicated to Weisbrod Memorial Hospital was decided by the governing Board of Directors to be necessary for a number of reasons, primary of which is the degree to which the financial status of Weisbrod Hospital is hindering the search for a permanent doctor.
The Kiowa County Press was honored for the best weekly newspaper promotion for this year's Colorado State Fair. About 2 dozen weekly newspapers participated in the promotion.
Sorghums ordinarily provide a healthy taste-treet fro grazing livestock. But fall's frost can trigger production of prussic acid a deadly poison that can kill a animal in minutes.
40 Years Ago
October 22, 1976
A six-place peper Cherokee airplane made a forced landing one-half mile south of Galatea late Sunday afternoon and CHP placed the pilot uder arrest and confiscated 745 1/2 lbs. of marijuana
Potpourri: Postman comes daily with, seems like hundreds, of missiles from various politicians. It was a refreshing surprise when this newspaper received a empty envelope from one politician. Then we realized in the same mail was another envelope with self-serving release inside-from the same candidate. To make matters worse, these two pieces of mail were from a candidate who doesn't even represent Kiowa County.
A carload of ladies from Eads enjoyed a day of shopping Pueblo.
Oral Parker of Eads was very pleasantly surprise when five of his 15 children arrived to help him celebrate is 77th birthday.
50 Years Ago
October 21, 1966
Two girls from Kiowa County won a expense paid trip to the National 4-H Club Congress held in Chicago. Iva Jane Grayson trip was won in the Special Achievement Program. Janette Peterson won her trip from the Bread Program
Walsh outfumbles Eads but still won 6 to 0. Walsh drop the ball 7 times Eads recovering 5. Six Eads fumbles recorded.
During past week the area has witnessed a variety of weather condition - shirt sleeve variety to rain, snow, freezing temperatures and strong winds.
Reported to the Press the Plainiew School suffered extensive damage. Estimated 1/4 of the gymnasium roof was blown off; radio tower blown down and skylight knocked out.
75 Years Ago
October 17, 1941
Kiowa County experience another big rain this week, which pushed the total to 20.93 inches.
Big news for real estate owners in southeast part of Kiowa County, Stanoline Oil and Gas Co. release official location data of NO.1 Snell. Its about 10 miles south of Towner and 40 miles east of Eads and adjoins the KS state line.
100 Years Ago
October 13, 1916
Governor Carlson is expected to visit Kiowa County. He will visit Eads on his route from Ordway to Lamar.
The Wolever & Co was broken into. Jewelry and wearing apparel amounting to several dollars were stolen.