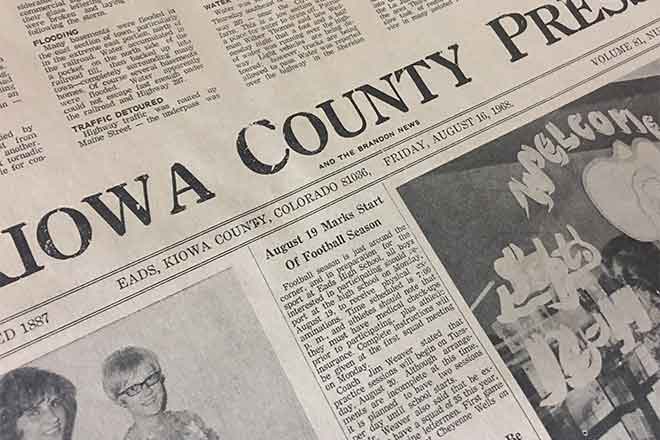 Published
Friday, November 3, 2017
15 Years Ago
November 1, 2002
The Kit Carson Union Pacific Railroad Depot has been listed in the Colorado State Register of Historic Properties. The 1904 Depot is well-preserved and publicly assessable.
Wild Horse Roundup-Curtis Schrimp: I got carried away and went to Kit Carson and got Lee a sack of cheese puffs to celebrate her 85th birthday.
Wild Horse Roundup- Curtis Schrimp: Talked to Jeremy Gaynor, he and his dad went elk hunting, they didn't see any, but did bring home a bear.
25 Years Ago
October 29, 1992
Eads Knowledge Bowl Team traveled to the USC campus in Pueblo to tape Matchwits. After three rounds of play, the Eads team came out on top with 100 to 85
40 Years Ago
November 4, 1977
Investigation is continuing into exactly who cause the destruction of a 40-foot bridge in southern Kiowa County.
Southeast Colorado Power Assn. Inc. has filed with the Public Utilities Commission for a rate increase affecting all classes of its current customers.
50 Years Ago
November 3, 1967
Extension News-Murrel Stephen: As most of you know, Butch Robertson caught a calf last year and will be showing it this year in the National Western in Denver.
The Tri-County ACP Tour can be labeled a huge success-145 persons turned out and really saw conservation inaction. We traveled approximately 255 miles.
Mrs. Pansy Philpy, Cheraw, Mr. & Mrs. B.L. Stewart, San Bernardino CA, and Mrs. Trix B. Miller arrived in Eads after a 6 week vacation. They visited relatives in Kansas, Nevada, Missouri and Iowa. They also enjoyed a trip to Expo '67' visiting 15 State and Province capital cities along the way.
100 Years Ago
November 2, 1917
An employee of the Missouri Pacific was killed as he attempted to board a train going about 25 MPH. He fell under the wheels and died before medical help could reach him.
J.E. Grinder, manager of the Princess has received notice beginning the first week of November a war tax of one cent will be levied on all paid admission. This means the price will be 11c and 16c.