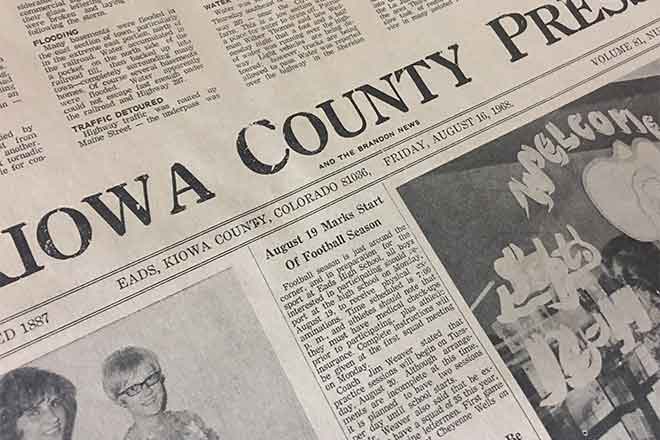 Published
Sunday, July 15, 2018
15 Years Ago
July 11, 2003
* Construction began this week on the multi-million-dollar water improvement for the town of Eads
* The High Plains 13-year-old All Stars Will be heading to Paonia for the state tournament after beating East Central East in best of 2 games at the area tournament.
25 Years Ago
July 14, 1993
* RE-1 School Board: Coca Cola offers $1500 toward new scoreboard if school drops Pepsi products.
* Lorrie Morgan in concert at the Prowers County Fairgrounds.
40 Years Ago
July 14, 1978
* A new business enterprise opened recently in the downtown area of Eads. The Wigglerama and Craft Factory is located in the old Triangle Clothier building.
* The shortage, and lack of response to repeated advertisements has prompted the hospital to offer residents of the community a $100 reward instrumental in recruiting an RN.
* The Dudes and Dames dancers were given the high honor of all in that they were chosen to officially close the National Square Dance Convention.
50 Years Ago
July 12, 1968
* Last Wednesday, several area farmers lost considerable wheat acreage as result of a thunder storm accompanied by hail.
* The television committee of Eads Chamber of Commerce has contacted an electronics firm in Denver where necessary equipment can be purchased for the re-broadcast system.
* Jefferson Spivey, modern day Kit Carson, started his trek from Santa Barbara with a pack mule and riding a registered Arabian gelding, bound for Washington D.C. stopped in Eads resting and washing off trail dust. Somewhere in CA, Spivey tired of pulling the mule which wasn't enthusiastic about making the long trip, and sold the critter.
75 Years Ago
July 9, 1943
* The new Weisbrod Memorial Hospital in Eads is now receiving patients. At present the institution can accommodate about eight patients at a time.
* Dr. C.C. Clark and J. C. Glover both of Denver have been taking care of details relative to locating and drilling site for an oil well.
100 Years Ago
July 12, 1918
* Farrel Hines has moved his meat market from the Eales building to the building formerly occupied by the barber shop on Maine Street.