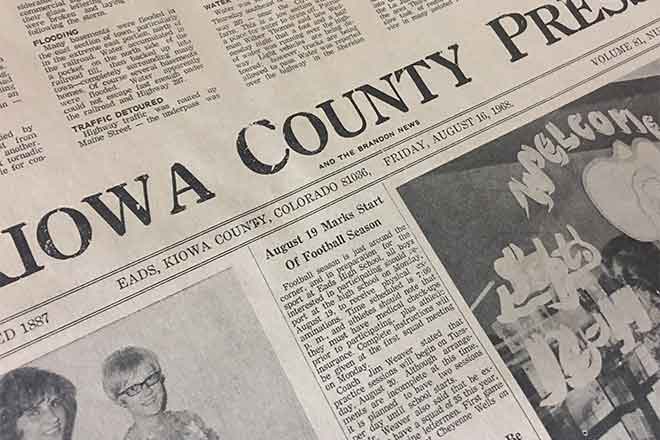 Published
Saturday, March 17, 2018
15 Years Ago
March 14, 2003
A ceremony in Prowers County officially launched a transmitter which will serve the weather warning needs for a large portion of Kiowa County.
Weisbrod Auxiliary agrees to purchase clippers. The old clippers had disappeared from the nursing home and weren't working properly anyway.
25 Years Ago
March 17, 1993
Congratulation to the Lady Eagles. Fifth ranked Eads defeated number four and defending class A champions, Stratton 44-43.
Plainview School News- Christy Hopkins: Plainview students Evan Hopkins & Steve Lening participated in the Arkansas Valley Honor Band.
Eldon Reinert, LUTCF, has earned two of Western Farm Bureau Life Insurance Company's 1992 production club awards: the Diamond Club Award and the Persistency Award.
40 Years Ago
March 17, 1978
Haswell landmark will disappear if the Missouri Pacific Railroad get the okay from the Public Utilities Commission for closing of the Haswell railroad station and removal of the depot and building.
Sheridan Lake sets town elections. Kiowa County Press reported the town of Sheridan Lake didn't plan to hold election. That report reached, indirectly, all the way to the Secretary of State's office. Town officials were advised the town "was on the brink of disbandment" because of its failure to hold elections.
County group to campaign for gasohol plant. They further agreed to mount a campaign to convince Gov. Richard Lamb to appoint Lynn Taylor of Sheridan Lake, to the state's newly formed Gasohol Promotion Committee.
Potourri- Nick Johnson: We have $2 from an anonymous letter, with the money enclosed to cover printing charges," concerning the town elections in Sheridan Lake. To the writer Please come in and sign your letter so we can share it with the rest of our readers. And pick up your $2. We don't except money for letters to the editor
Number of welfare recipients in Kiowa County has declined by more than 10 percent since July.
50 Years Ago
March 15, 1968
Three Eads students walked away with trophies for their efforts entering 10th annual Otero Jr. College Science Fair. Charles D. Bowne received 1st for his entry "A Study of a Winter Biottc Community on Sand Creek." Gary Newman received 2nd in Physical Division with his entry "Chemical Crystals." Cathy Larrew drew 3rd place in the Biological Senior Division with her entry "Test Criteria for Hair Spray.
Exploration for oil in Kiowa County broke out in a new direction as Germany Investment of Dallas and rigging up rotary tools at its Kiowa County wildcat test about 8 miles north of Eads.
Welcome snow storm this past week brought smiles to many faces, as more than half inch moisture recorded at Eads. Similar amounts of moisture were reported in other parts of Kiowa County.