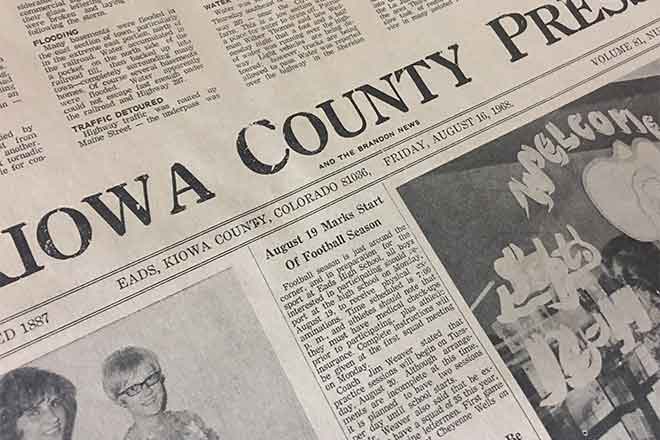 Published
Thursday, January 10, 2019
15 Years Ago
January 9, 2004
Eads Chamber of Commerce honored Faye Barber with Citizen of the Year and Gail Crawford Volunteer of the Year awards.
Wind-generated power has become a reality in southeast Colorado. The new wind farm near Lamar nears completion.
Wild Horse Roundup-Curtis Schrimp: New Year's Eve was pitch party time at our school house. There was a lot of good snack food that always goes over good.
25 Years Ago
January 12, 1994
Christopher "Kit" Miniclier, staff writer for the Denver Post, was in Eads interviewing a number of local officials and business leaders. Mr. Miniclier stated the actual topic for a potential article had not been selected.
Kiowa Count resident Brenda Fickenscher has been named by the Colorado Cattle Woman as Rookie of the Year.
40 Years Ago
January 12, 1979
The water rates in Eads will increase to five dollars minimum for the first 3,000 gallons and 35 cents per one thousand thereafter.
According to a recent article in the Iowa Park Leader, Mrs. Ruth Johnson, mother of fugitive Iowa Park agri-businessman Bobby Johnson, confirmed suspicions that her son did not fall off a fishing boat and drown in the Gulf of Mexico almost two years ago.
The only newcomer of the elected officials to be sworn in was Floyd Griswould, who was elected Sheriff of Kiowa County.
50 Years Ago
January 10, 1969
Jeanie Aldrich, senior at Eads High School and daughter of Mr. & Mrs. Ray Aldrich, placed first in the local contest and third in District completion of the annual V.F.W. Voice of Democracy Script Writing Contest.
All youngsters 9 to 19 who have a dog and would like to train it-one of the newest additions to the 4-H program in Kiowa County this year is a Dog Obedience Club.