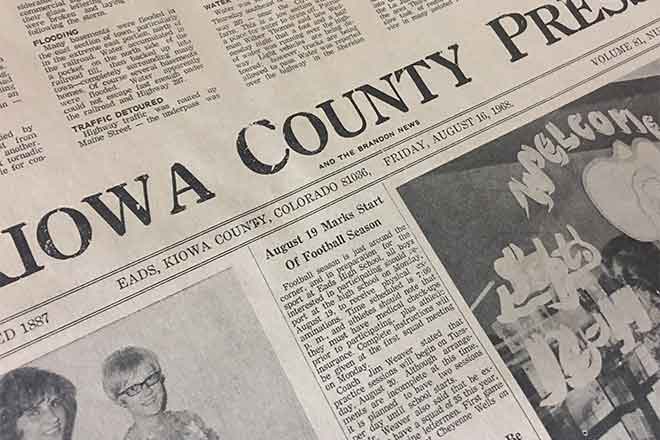 Published
Friday, August 2, 2019
15 Years Ago
July 30, 2004
USDA Update-Rod Johnson: Heavy rain covered the eastern 2/3 of the county. Reports of 2 to 4 inches were common.
Wild Horse Roundup-Curtis Schrimp: Has anyone noticed the weather this past week. Marty couldn't go to the ranch as water was over the road. Must have had a lot of rain north of the highway as the ditch was full and water was hitting the bridge stringers. Her pasture looks like a lake.
25 Years Ago
August 5, 1994
Prowers County Sand & Sage Fair Board presents Suzy Bogguss in concert
40 Years Ago
August 3, 1979
The Betzold family finished their 600-mile bicycle vacation July 31, back where it started. The family, Randy, Debi, Randy Lee & Joseph Lee, started their trip July 18. From Eads they headed north to Scottsbluff, Nebraska - that took a week. What is so unusual about this bicycle trip: Betzold's oldest son, 7-year-old Randy Lee, rode his 20" bike all the way. Four-year-old Joseph hitched a ride in a "jumper seat" on the back of his father's bike.
50 Years Ago
August 1, 1969
Misses Karen Negley and Cheryl Rehm will give their 4-H demonstration, "Whispering Secrets," on television KKTV channel 11.
75 Years Ago
July 28, 1944
A bolt of lightning struck the home of Roy J. Wiebers in Sheridan Lake. It struck the wind-charger and entered the house catching some articles in the basement on fire. The fire was put out before damage was done, but the radio and other electrical appliances were burned out.
100 Years Ago
August 1, 1919
Hollingsworth and Son of Arriba, realty men, have started a land business in this section, with Galatea as their headquarters.
The need of camping grounds for our ever-increasing stream of tourists has been sown this week. They have slept in the streets and every place else. A ground especially fixed for this purpose would certainly be appreciated by them and give our town a good name.
The Star Garage sold a Dort the past week to W.S. McCracken, sheriff of Kiowa County. The Dort cars are very popular in some sections, and are rated as one of the better make of cars. Mr. McCracken will use the car in his land business as well as to take care of the county's business better.