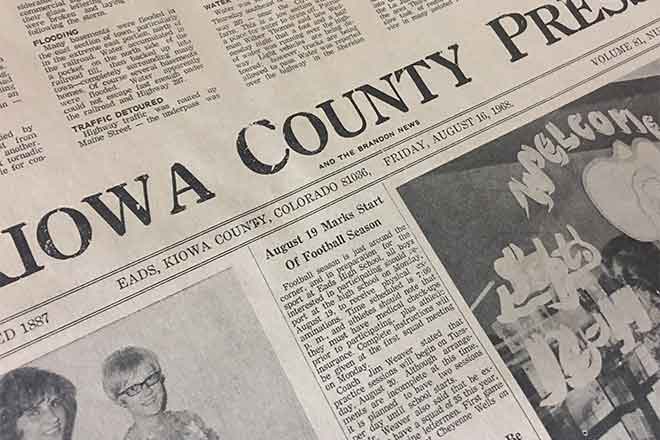 Published
Sunday, September 29, 2019
15 Years Ago
September 24, 2004
The final Eads Chamber of Commerce Community Marketplace of the season will be held this Saturday, the last Saturday of September.
About Town- Ida & Doris Lessenden: We thought the Eads School Band really sounded good at the football game here Friday.
In an attempt to rejuvenate the town of Eads, the English III class at Eads High School is nominating the theatre for the Colorado Historical Society's Register of Historic Places.
Kit Carson Re-1 Elementary School has been named a No Child Left Behind Blue-Ribbon school of 2004
25 Years Ago
September 30, 1994
Towner Tales-Anne Harkness: The grasshopper situation is severe this year, causing many area farmers to re-drill their wheat.
Wild Horse Roundup-Curtis Schrimp: We went down to Kit Carson to the Parrish Care Home and listened to some great old music by a group called the Old Time Serenaders. They were from Franktown, Castle Rock and one from Aurora.
40 Years Ago
September 28, 1979
Henry Wijenayake, 4-H Extension Agent from Sri Lanka, gave a presentation on his country to the Kiowa County 4-H Council.
50 Years Ago
September 26, 1969
A new 115-thousand-volt transmission will be built from bear Pueblo to Lamar in 1970. The new transmission facilities will make firm the power supply for southeast Colorado through Southeast Colorado Power Association., one the three electric cooperative owners of Arkansas Valley G & T.
Haswell Happenings: A tornado touched down about three miles west of Haswell at the old Griswould farm now owned by Bill Marx, where a garage and grain storage bin were destroyed.
75 Years Ago
September 22, 1944
The Distinguished Flying Cross has recently been awarded to Staff Sergeant William F. Schoggen, tail gunner and assistant engineer on the Eight Air Force B-17 Flying Fortress "Stork Club" for 'extra-ordinary achievement, courage, coolness, and skill" while participating in numerous bombing attacks on war plants deep in Germany and Nazi defense points and communication lines behind the invasion front in France.
During the fair, an engineer was in Eads to work over the sound equipment at Victory Theatre. According to Mr. Williams, the adjustments made a great improvement in sound effects at the show.
100 Years Ago
September 26, 1919
The next issue of the Press will be under the management of Louie Wilson formerly owner and editor
H.H. Turner, an experienced realty man formerly at Canon City, is starting a realty business at Galatea.
Building operations are going rapidly ahead at Eads. Stonework has been started on Mr. Prayjer's cottage, which promises to be very neat and attractive when completed.