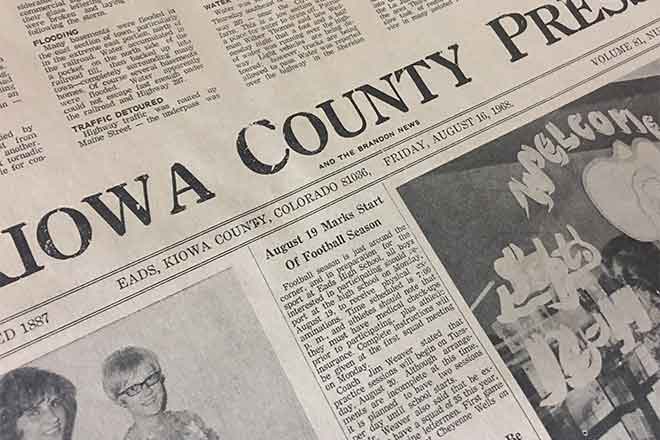 Published
Tuesday, December 31, 2019
15 Years Ago
January 7, 2005
About Town - Ida & Doris Lessenden: This is the first time I can remember having a white Christmas that kept me indoors too long a time.
Kiowa County Public Library is among the recipients to receive grant funds from El Pomar Foundation.
East End Events - Laura Weber: The annual New Year's Eve party was at the K.A. Hall again this year.
Wild Horse Roundup - Curtis Schrimp: Marty and I, along with many others, celebrated New Year's Eve attending the Ladies Club annual card party.
25 Years Ago
January 6, 1995
Wild Horse Roundup - Curtis Schrimp: Brrr. Well, '94 went out with a big freeze at 0, but I'm watching weather while writing, and they just said it was 20 below at Woodrow, so I guess we came out pretty good.
40 Years Ago
January 4, 1980
Jimmy Bendorf celebrated his 25th "Anniversary" as Kiowa County Assessor.
Nursing Home News - LaVerne Fischer: We expect to spend a lot of time enjoying the hot air popcorn given to residents by the Ladies Hospital Nursing Home Auxiliary
50 Years Ago
January 2, 1970
Towner: PFC Don Lening's name was drawn for a free telephone call home given by the Pueblo Chieftain.