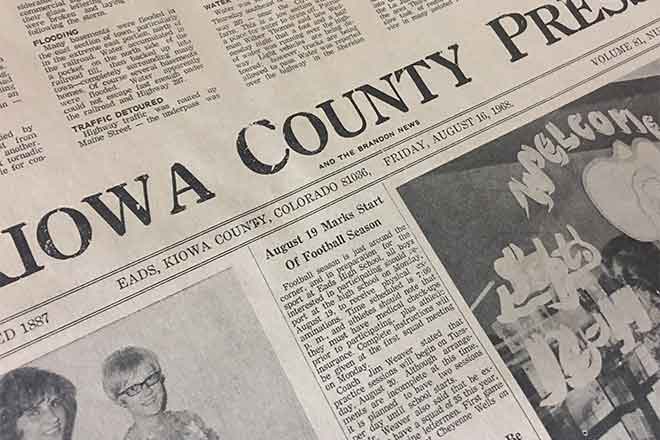 Published
Saturday, March 28, 2020
15 Years Ago
April 1, 2005
The Kiowa County Commissioners are holding a contest for the theme of the 2005 Fair Parade. Only Kiowa County citizen 65 years old and older are eligible to participate.
25 Years Ago
March 31, 1995
Kiowa County 4-H match their talent against 50 entries in 24 different events at the District 6 4-H Fun Festival. Kiowa County had 14 entries and won nine different event champions.
40 Years Ago
March 28, 1980
A snowstorm swept through Kiowa County and other parts of southeast Colorado, dumping as much as 10 inches of precipitation in parts of the county.
50 Years Ago
March 27, 1970
Chuck Bowen, Eads High School senior, won top prize at the Tri-County Science Fair. All eight Eads winners will compete in state competition.
75 Years Ago
March 23, 1945
Prairie fires have destroyed much property and grass in the county. A big one burned from south of Frank Risser's ranch north to Rush Creek. It started by burning weeds that got out of control. A tractor set one northwest of the Lane farm. Another fire reported at Stuart.
100 Years Ago
March 26, 1920
Citizens of Eads were called to meet by the mayor for the purpose of organizing a volunteer fire department.
S.S. Smith of Denver began work on staking out pole locations for Eads electric lighting system.
J.L Eales has completed a modern cream station of Front Street. A new concrete building was erected, equipped with steam apparatus, making everything modern and sanitary.