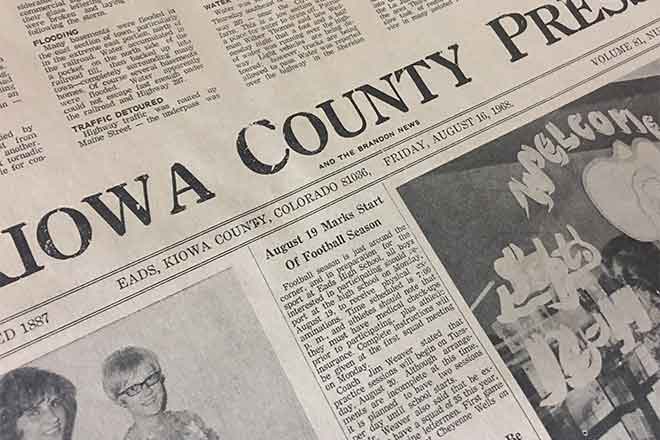 Published
Thursday, May 14, 2020
15 Year Ago
May 20, 2005
USDA Update -Rod Johnson: Finally, 003/2004 crop disaster payments are being issued!
The Eads and McClave High School Business Department and Lamar Community College were recently awarded a $70,000 Tech Prep grant.
25 Years Ago
May 19, 1995
Thunderstorms, high winds, hail and possible tornadoes were felt across Kiowa County Monday through Wednesday.
Nursing Home News - Nellie Nickert: Starting Monday morning with Polka Aerobics does tend to loosen up those tight muscles.
40 Years Ago
May 16, 1980
Governor Richard Lam signed House Bill 1030 to purchase water for impoundage in the Great Plains Reservoirs
Proposed Kiowa County Pest Control District was narrowly defeated.
Microwave oven workshop was held
50 Years Ago
May 15, 1970
Kiowa County Sheriff Eugene C. Kelley received recognition as "Senior Sheriff of Colorado." A special badge was presented to him.
Eads and Lamar music students of Mrs. Delphine J. Segers were presented in a spring recital.
75 Years Ago
May 11, 1945
Greatest and most welcome news of the past six years came May 7 when it was officially announced that the German army had surrendered.
100 Years Ago
May 7, 1920
The drill at Nee-No-She well struck salt and last report was over one hundred feet in it.
P.R. Devereux who purchase the old Ed Low hotel is building a new barber shop on the same lot and otherwise improving the property.
A public highway is being graded along the south side of the tracks thru the Jackson addition to Maine Street which will help in directing tourists to the boulevard.