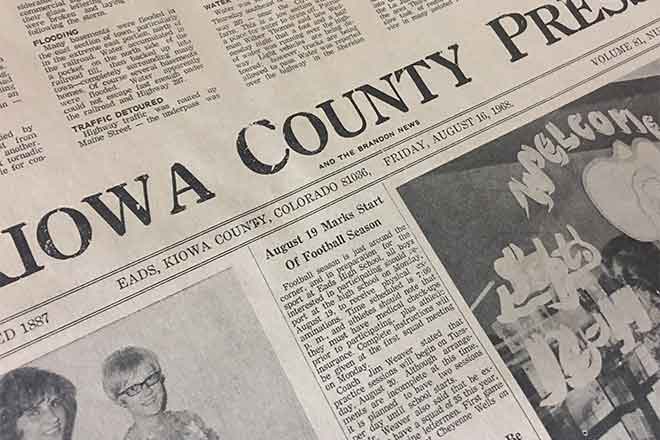 Published
Tuesday, January 28, 2020
15 Years Ago
February 4, 2005
To coincide with American Heart Month, Kiowa Healthmart is offering an important screening to identify people who may be a risk for heart disease.
Two Eads FFA members, Talli Hansen and Branden Dunlap, were contenders and winners at the "Catch a Calf" at the National Western Stock Show.
25 Years Ago
February 3, 1995
Found! Large sum of money. To claim/identify contact the Kiowa County Sheriff Office.
Towner Tales- Ann Harkness: There were smiles galore over the weekend at the first measurable precipitation for the month fell. Amounts ranged from .40 in. to 1.5 inches.
40 Years Ago
February 1, 1980
City crews started work in the wee hours trying to pinpoint a water main break and get it repaired before nightfall. Weather conditions included blowing snow and wind whipped the 10-degree temperature to a minus 35 wind chill factor.
50 fYears Ago
January 30, 1970
Due to the increase costs, the daily room rate for semi-private rooms at Weisbroad Memorial Hospital will be increased to $25 per day.