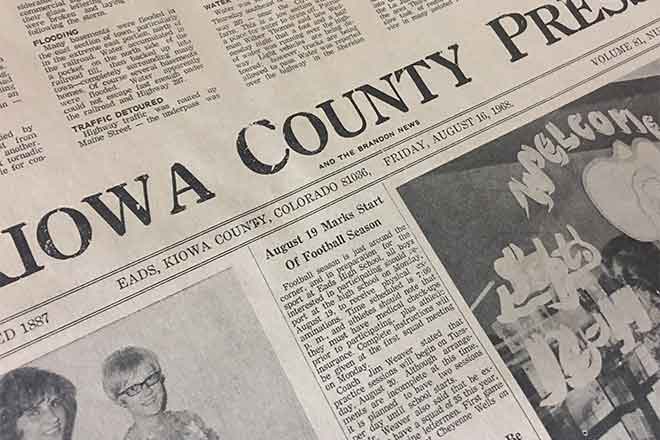 Published
Friday, September 18, 2020
15 Year Ago
September 23, 2005
The bronze sculpture "Kindred Spirits", displayed at the roadside park, on loan to the town is now available for purchase. The Board of Trustees decided to offer $11,250 with SECED picking up $10,000 off the price tag.
25 Years Ago
September 22, 1995
FSA Update -Rod Johnson: We still don't know and probably will not know if Federal Employees are going to be furloughed October 1.
40 Years Ago
September 19, 1980
From the Sheriff Desk -Floyd Griswould: Once again the county fair is over and once again the best ever! There were no serious injuries at the rodeo or racing events.
50 Years Ago
September 18, 1970
Colorado Governor John Love chatted with several young people while attending the Chuck Wagon Breakfast on Maine Street.
Sheriff Eugene C. Kelley said warrants have been issued for four burglary suspects who entered the Wesley Brown home.
Eastern Slope Rural Telephone announced telephone subscribers in Kit Carson exchange will have complete and full use of the new telephone system.