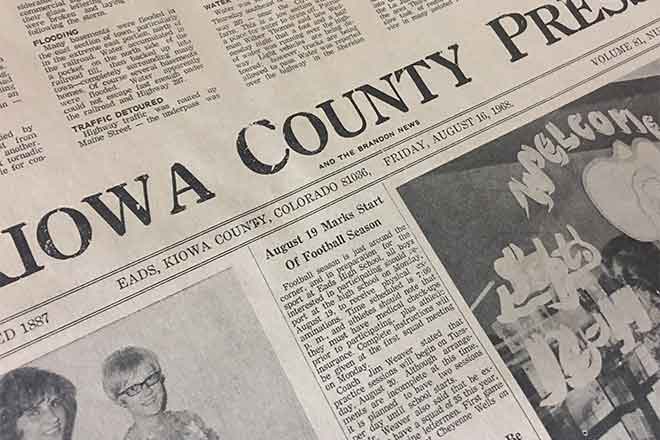 Published
Sunday, November 22, 2020
15 Year Ago
November 25, 2005
Wild Horse Roundup- Curtis Schrimp: Thistles! Marty got her tracker out and started pushing and she finally found the barn. She worked til dark and made a monstrous pile. She was going to take a picture but the Lord sent a wind and blew that pile to the creek.
25 Years Ago
November 24, 1995
Colorado State Senate President Tom Norton appointed Terry Laird of Eads to the 15th District Commission on Judicial Performance.
Wild Horse Roundup- Curtis Schrimp: The Wild Horse dump closed, so now we will have to drive about 30 miles to empty the waste basket.
40 Years Ago
November 21, 1980
Ring 'N' Things, a new gift store, has opened its doors. The store which specializes in jewelry is located at 404 E. 15th St. next door to the Tastee Treat.
50 Years Ago
November 20, 1970
Haswell: Approximately 15 children received the Rubella vaccine shots given at the school on Tuesday.
Dance - Chris Christie and The Mesa Ramblers at the Haswell Booster Hall Sponsored by Haswell Roping Club
75 Years Ago
November 16, 1945
Three nice trophies were received by H.C. Wear of Brandon and placed on the walls in the First National Bank in Eads.
100 Years Ago
November 19, 1920
A group of buildings consisting of the Eales, Doyle & Nieman buildings, located on 1st Ave. across from the depot were completely destroyed by fire. This was the first fire which has occurred since the fire brigade has been organized and the boys were prompt getting to scene. However, as no water is yet available the men were powerless to stop the blaze.