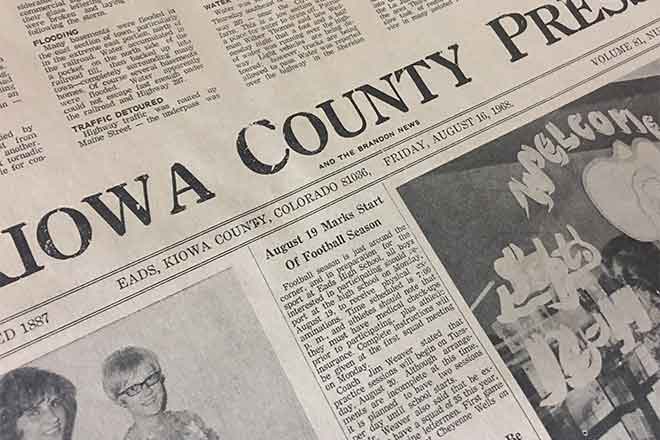 Published
Sunday, April 11, 2021
15 Year Ago
April 14, 2006
Governor Bill Owens announced $488,030 in Energy & Mineral Impact Assistance funds awarded to Kiowa County School District for re-roofing.
Five sixth grade students from Eads Middle School were selected to attend the Jr. National Young Leaders Conference to be held in Washington, D.C.
25 Years Ago
April 12, 1996
Barbara and Wayne Singer and Gene Lutz, key people in the establishment of Babe Ruth Baseball in Colorado from 1960-1975, were among the inaugural class of inductees into the Colorado Babe Ruth Baseball Hall of Fame.
40 Years Ago
April 10, 1981
"Music is the Universal Language" was the theme for the Plainview Music Booster's Varity Show.
50 Years Ago
April 9, 1971
The Board of Education of Kiowa County School District RE-1 adopted a dress code. All Students will be fully clothed in the classrooms. Athletic suits not to be worn in classroom any time of day. For violating the dress code, a student will be sent home and required to return in proper attire. After that, the student will be sent home, receiving a zero for class time missed.